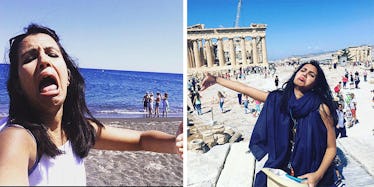 Woman Takes Funniest Solo Photos When Her Husband Misses Their Honeymoon
I want my honeymoon to be like this, which, of course, it probably will be because I'm going to be alone from now until Jesus comes back twice.
This is her and her husband Arsalaan Sever Butt.
The two were married seven months ago and had planned a romantic honeymoon to Greece -- which is to honeymoons as butter is to toast. I'm saying it's good. (I am not a vegan, or, you know, anti-Greece).
Anyway, unfortunately Arsalaan wasn't able to get a visa in time for the vacation, according to BuzzFeed. I'm not exactly sure why Greece would make it difficult for tourists to enter it and spend their money everywhere, considering Greece's economy is to Greece as dingleberry paste is to toast. (I'm saying Greece has a bad economy).
Still, Huma wasn't going to let this stop her. After some completely justified crying and hating Greece, she set off on the honeymoon without Arsalaan, and documented her journey perfectly.
She posted photographs of herself and her invisible husband to Facebook...
...posing where they'd have posed if he was there.
She didn't hold back on the vacation at all.
She went all over, each time with her face contorted in the anguish lovers feel when life's obstacles bar them from being together etc...
Oh and if you're wondering who took the pictures...
...she does not have the world's most subtle selfie stick or a compliant ghost.
Her in-laws reportedly joined her on the journey.
Yes, apparently some people actually like their in-laws.
So, this was basically a very romantic trip between...
A woman...
Her in-laws...
...and the invisible man.
Citations: This Woman's Tragic Photos From Her Honeymoon Without Her Husband Will Make You ROFL (BuzzFeed)