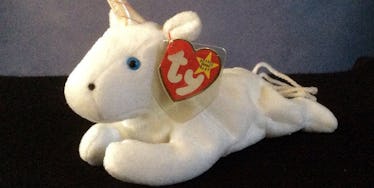 50 Things You Could Buy If You Didn't Have To Pay Off Your Student Loans
Based on a study conducted by financial aid experts, the class of 2014 graduated with an average student loan debt of just around $30,000.
That's, like, a lot of money.
I did some serious research for you guys and found these 50 other things you could buy if the negative symbol sitting in front of your student loan account balance suddenly turned into a positive.
60 hoverboards for your cool-kids club
15 miniature horses for your niece's birthday
31 human skulls for your new collection
Two-day passes to Disney World for you and 311 of your closest friends
375 hours with a professional snuggler during the cold seasons
Almost 17 of the world's most expensive hamburger for you and all of your fraternity brothers
625 of these Lame Venus Bodysuits for that cool '80s orchestra you always wanted to start
This hair cut once a month for two years if you're into that kind of thing
Help pay to make this person's dream of camel and goat milk soaps a reality
1,500 bottles of the nail polish color "Orgasm" if you're looking for a new way to "put yourself out there"
Up to 10 of these rare Unicorn Beanie Babies to be stored in your attic with everything else
This pretty boring purse
Take 33 couples to dinner for Valentine's Day at NYC's most expensive restaurant like the baller you are
500 classes at SoulCycle if you're into joining cults
15 tickets to the best seats in the house at a Billy Joel concert at Madison Square Garden 
252 of your own personalized romance novels, one for each Tinder date fail
447 days worth of this soup cleanse if you feel like throwing your money down the toilet
15 of these very elaborate Bat Man costumes
2,500 of these discontinued Ben & Jerry's CLUSTERFLUFF ice cream containers… I mean…
142,857 personalized gumballs for your next political campaign
Four Canadian Eskimo dogs to start your own family
A night in the Royal Plaza Suite at The Plaza Hotel overlooking Central Park because you're Sarah Jessica Parker, goddamn it!
8,571 jars of peanut butter for your low-carb lifestyle
1,304 of these water bottles wearing gold chain necklaces to make sure everyone at the gym knows you mean business
188 helicopter rides lasting 15 minutes each, in case you're ever the bachelor on "The Bachelor"
White Caviar Illuminating Facial treatments for you and 30 of your mom's friends
Enough toilet paper to last you roughly 1,000 years
3,333 pairs of these shark socks to show everyone how quirky and quool you are
Invisalign for you and five other people with terrible teeth
7,228 grande Skinny Vanilla Lattes to feed your addiction
166,666 Munchkin doughnuts also to feed your addition
You could rent this gown for 35 fancy events, you literal garbage human
75 pairs of these gold diamond fang teeth if you want to get into hip night clubs (Right? This is how you do it?)
Rent a friend for about 3,000 hours if you're desperate and dying alone
A humidifier for every room in the 909-room house you might buy your posse one day
30,000 humpback whale noise CDs -- take it or leave it.
A 1,875-year subscription to the Hot Sauce of the Month Club -- you'll never have boring food again!
Feed 40,000 babies if you're a philanthropist or whatever
You could get an entirely new body (!!!)
The Kim Kardashian emoji app for you and 14,999 people you hate, probably.
This platinum bed likely designed for "Star Trek" geeks instead of rap artists
This ring that sort of looks like shiny poop
Five human bowling balls for the world's best BBQ party ever!
Throw a party for your dog like Ray J
Roughly 150 to 300 doctors visits... Seriously, it's a good option.
600 pairs of these cat-eye contacts to make sure your roommates never sleep again
2,000 hours in this sensory deprivation tank
Not quite this painting of Elvis Presley -- but almost
I'm not exactly sure how much it costs to have a College Hunk move you, but I bet you can afford it
Exactly one more year at these universities