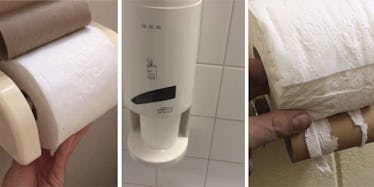 The Way This Country Uses Toilet Paper Will Completely Blow Your Mind
Imgur/Gfycat
People on Reddit are posting toilet paper roll holders from around the world because the internet is weird. Very weird, in fact, because here I am getting paid to write about Reddit talking about toilet paper.
Let us begin.
Now, at first, I was tempted to make this piece a sober reflection on the importance of multiculturalism in the wake of Brexit, but then, I remembered I was writing about toilet paper.
And in the toilet arena, there can be but one victor.
Japan.
The Japanese are more dominant in the category of "Cleaning Butts" than Michael Phelps is in the category of "Stoners Who Swim."
Behold this miracle of design, convenience and simplicity.
Next up: Australia, which is decidedly less innovative.
What Australia lacks in toilet-roll dispensing, it makes up for in gun laws. YES!!!! I MADE AN ARTICLE ABOUT TOILET PAPER POLITICAL!!!!
Of course, Germany's is both convenient and somehow threatening.
Basically, it uses the same principle as a shotgun. But instead of bullets -- anyway, you get it. Wow, more gun stuff.
This South African toilet roll dispenser is harrowing.
Please note the Uncle Sam-esque text that reads,
PULL PAPER TOWARDS YOU.
And finally, AMERICA.
... I seriously didn't plan this whole gun motif when I started.
The other main form of American toilet-roll dispensing is this.
This is, of course, my preferred method. I just like to know there is already some fecal matter on the toilet paper BEFORE I use it.
But in this beautiful country, UNLIKE ENGLAND (#politics), we encourage VARIETY and DIFFERENCE.
We don't do that, obviously. We just say that in speeches and do the opposite of that. (Wow, this is legit becoming a very political article.)
Anyway, um, AMERICA.
AMERICA FOREVER.
UNITED STATES OF FOREVER.
OH SAY, CAN YOU SEE BY THE DAWN'S EARLY AMERICA.
SO YOUR BATHROOM FINALLY MATCHES THE SENSE OF DESPAIR AND VERTIGO YOU FEEL WHEN THE BUTT APOCALYPSE ROARS OUT OF YOU!!!!
AAAAAANNNNNDDDDD THEEEEE HOOOOOMMMMMMEEEEE OFFFFF THEEEEEEEE BRRRAAAAAAAAAAAAAAAAVE.
Citations: Mashable