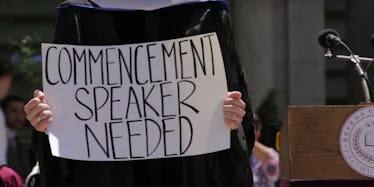 Strangers Were Asked To Speak At A Graduation And Things Got Inspirational
YouTube
Oh, don't you just love professional improvisers? These days, they've jumped off indie comedy club stages and into the real world with the sole intention of fucking with us. And I, for one, love it.
One group, Improv Everywhere, is so determined to mess with the minds of unsuspecting individuals that they put on a fake graduation and asked random strangers to be guest speakers. In a YouTube video of their stunt (posted above), you can see one of the improvisers asking people if they'd like to speak while holding a sign that reads "Commencement Speaker Needed."
Of course, lots of people reject his desperate bidding and continue on their merry little way until one lovely human named Sue steps up to the plate. Quickly, more people line up to speak to the "graduating class," and while the improvised speeches are funny, they're also surprisingly heartfelt and inspiring.
Sue, for example, told the fake students,
Reach for the stars and live your life to the fullest.
And one woman went with an equally uplifting message, saying,
You guys are all going to kick ass in real life.
If anything, this video can reconfirm your belief in human goodness. Watch it and don't be ashamed if a single dramatic tear falls from your eye. It's only natural.
Citations: These Random People Gave A Commencement Speech At A Graduation And It Got Real (BuzzFeed)