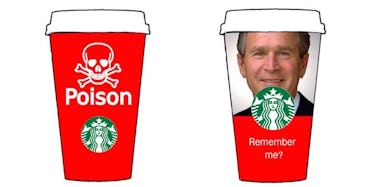 These Are The Starbucks Cup Designs Actually Trying To Ruin Christmas (Photos)
Wait, when did Christians call dibs on snowflakes?
If somehow you haven't been on the Internet this week, let me explain: Starbucks, which usually has snowflakes and trees and stuff on its holiday-season cups, decided this year it would just make them red and green (you know, Christmas colors).
And everyone went bat-sh*t bonkers over it.
People accused Starbucks of taking part in the "War on Christmas."
But what they meant was: "CHRISTMAS IS RUINED IF CORPORATIONS DON'T TRY TO USE IT TO SELL ME SH*T!!!!!!"
Apparently, snowflakes are really important Christian iconography, and Starbucks' decision not to include depictions of the frozen water particles was taken as an unforgivable affront against God, Jesus and all the angels in Heaven.
The thing is, people lamenting "The War on Christmas" is an American tradition as old as baseball. So honestly, I'm kind of surprised everyone seems so shocked by the controversy.
It happens every year, without fail. And, sadly, it's probably here to stay.
To put things into perspective, here are some Starbucks cup designs that are actually trying to ruin Christmas.
This is what a real war on Christmas looks like.
OK, you can't really argue with this logic.
Try to put your mouth on that pumpkin spice latte now.
Hey, you.
A poison that makes you poo after the first sip.
Look, just don't think about it.
Wait! No! Too far!
NOOOOOOOOOOOOOOOOOOOOOOOOOO!!!!!!