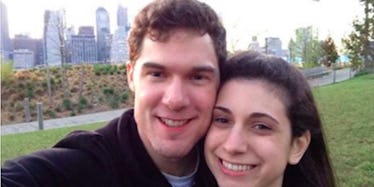 Secret FB Feature Shows What Your Friends Really Think Of Your Relationship
Facebook
Facebook has all these features you've never used or paid attention to. For example, did you know you can search through your entire Facebook history using keywords?
For example, maybe you used to say a word like "retarded" a lot when you were in seventh grade.
Now, you're rightfully embarrassed there was actually a time when you called something you didn't like the derogatory term for "mental disability."
Now, you can go ahead and delete all instances of you using that word, so your enemies can never use your past indiscretions against you.
Another interesting feature no one uses is called "Facebook Us."
Heads up, this only works if you're in a relationship with someone on Facebook -- but if you are, it pulls up a slew of information regarding your love life on social media.
I'm not in a relationship (sob) right (sob) now (sob), so I did the only natural thing.
I got our new copy editor (it's literally her third day on the job) to send me the discoveries she made regarding her social media relationship with her pretty damn handsome BF.
I will include her observations, and then I will make my own.
I will do my ABSOLUTE BEST to not make fun of them, lest I be accused of journalism hazing.
"This is a screenshot of my Facebook.com/Us ... apparently my boyfriend Tom and I are pretty boring because the most recent post is a photo from June."
(That photo is the one in the top left corner, BTW.)
Now, I don't want to judge, but if you don't post a pic with your significant other every other week, you don't love each other.
Isaac Newton said that. You should listen to his advice. He's smart. He discovered gravity bongs.
"Most of our mutual friends are my cousins. They're keeping a watchful eye."
When I asked her how this happened, she said simply: "My cousins friended him to spy on him."
"No one gets our jokes ..."
You're right about that. Because I have no idea what this means, as it should be.
After all, inside jokes in a relationship are the most advanced and precious of inside jokes. (I MISS THEM!)
"... Even when they involve cute animals."
You have a peculiar definition of what constitutes a cute animal, Danielle.
Sure, squirrels in general may be cute.
This dude looks like he's been sleeping in a murdered carcass from a "Law and Order" episode for a week and is trying to have one moment of fun before returning to the body, which is his only shelter from the elements.
...Okay, yeah, that metaphor got away from me.
"Most of our likes and comments come when we're photographed somewhere in Brooklyn."
This is a pretty weird discovery. Although are you sure it's not because you guys look, um, happy and in love or whatever? I'msolonelyhelpme.
"...No Brooklyn location, no likes."
Point taken.
"Even when I nag him virtually, he doesn't listen ... "
Nag is actually a word that's historically been used to make women seem shrill and unreasonabl-- [gets clotheslined by the Mansplaining Police].
She ended her commentary on her discoveries with:
Overall, pretty underwhelming.
YEAH, YOUR BEAUTIFUL, ROBUST LOVE IS SO UNDERWHELMING!
SOME PEOPLE ONLY FEEL LOVED BY THE BURRITO THEY'RE EATING DURING THEIR EIGHTH STRAIGHT EPISODE OF "ELEMENTARY" (which is actually a pretty decent show)!
Thanks, Danielle! Hope you like it here!
Citations: Indy100