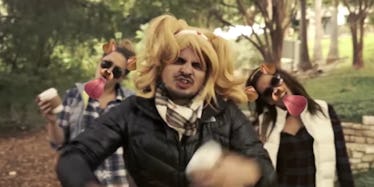 This Pumpkin Spice Latte Rap Proves You Can Be Basic And Still Be Hardcore
YouTube
"Put your Uggs on betch, let's do this."
It's finally fall, so you know what that means -- it's time to Google if there's actually a way to set up an IV to pump PSL right into your blood stream.
Well, the fine folks over at The Chive know all of our basic needs all too well and what huge Pumpkin Spice Latte fiends we really are.
Wow, check out this actual footage of me above learning that Pumpkin Spice Lattes had returned.
OK, so that's not really me, but it might as well be seeing as how I live and breathe the PSL lifestyle as outlined in the "Pumpkin Spice Latte Gangster Rap" video at the top.
Not only does this rap show people enjoying Pumpkin Spice Latte while doing yoga, it also adequately represents our love for North Face, mimosas and waffles.
You get me, The Chive.
This is an accurate portrayal of each and every one of my Sundays.
This music video also shows what I do the second my PSL gets a fraction of a degree too cold to sip on.
I THROW IT ON THE GROUND... SMASH!
JK, I never litter. Ever.
People refuse to admit to being basic, but let's be real. We all have to wave our basic flag high. If anything, this sketch shows that we all need to embrace our inner basic-ness.
So, put on a sweater, take a long drag... uh, I mean sip from your PSL and watch the hilarity above. Unless you're like me and living without AC in LA right now.
Then put some ice cubes in that PSL and pray that this heat wave will cool down by the weekend.
Citations: Hold on to your Uggs betch, The Pumpkin Spice Gangster rap is here (Video) (The Chive)