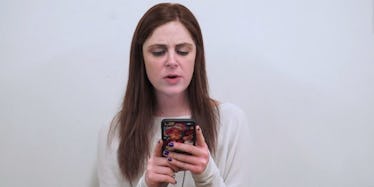 People Read The Last Texts They Ever Received From Hookups And Exes (Video)
I'm under the age of 72, so I don't think that newfangled technologies like "texting" and "those sex apps" are going to lead to the end of interpersonal communication, relationships and society as we know it.
You'd have to be an idiot to ignore the benefits of the aforementioned innovations, but you'd have to be as out of touch as an elderly straw man to think there aren't downsides.
One of those is that people tend to think breaking up over texts is acceptable because they apparently think "acceptable" is a synonym for "easy."
Eva and Mel had a few people read the last text they received from exes, friends with benefits and one night stands, including one who used the words "I'm making $100,000 a year now" without a trace of irony.
Isn't dating great?