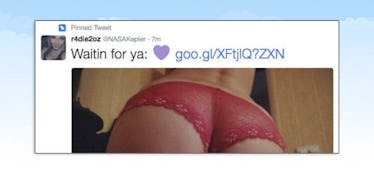 NASA Tweeted A Sexy Pic Of A Woman's Butt And Everyone's So Confused
Twitter
NASA's amazing Kepler mission involves a telescopic spacecraft whose sole purpose is to monitor the solar system for new, Earth-like planets — meaning planets that are in "habitable zones" of the star they orbit (and therefore could possibly bear life).
In May, the Kepler mission announced a whopping 1,284 new planets like this. And despite the fact that this mission may literally hold the key to discovering that humans are, at long last, not alone in the universe, it is now going viral because of a butt.
Yes, the Kepler Missions Twitter was hacked by some sort of cam girl bot and, temporarily, looked like this.
First, the profile picture was switched to an archetypal girl next door. Then the username had been changed from "NASA Kepler and K2" to "r4die20z" (for some reason). And finally, a tweet was sent out with a newly discovered celestial booty.
The best thing about this all is that I'm assuming this is part of some hacker's scheme to promote some cam girl thing, which means that they are expecting someone who has subscribed to NASA's "finding aliens" Twitter to come across this picture of a butt that NASA just tweeted and think,
This is weird, but, hm, OK, well I REALLY like NASA — so they probably have excellent taste in internet cam girls. I'm definitely going to check this out.
NASA quickly got control back and sent out this tweet, to which literally everyone on Twitter made a "Uranus" joke.
"Ready to tell you about new planet discoveries" sounds like an innuendo to me. But I'm just not smart enough to decode it. Look, I'm no rocket scientist.
On second thought, maybe "planet" just means "butt."