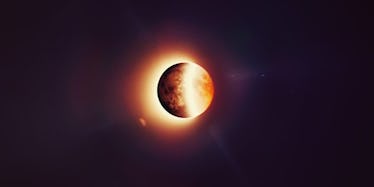 The Moon Just Blocked The Sun On Twitter And We're So Ready For The Drama
The moon is certainly acting like one salty lady. She's enjoying her 15 minutes thanks to the Aug. 21 solar eclipse, the celestial phenomenon where she is set to block the sun... not only within the solar system, but also on social media. Yes, you've read that correctly: The moon blocked the sun on Twitter, and she has made it clear she is not messing around.
The moon, who is fairly new to the site — having joined in August 2017, presumably on the 21st, just hours before the actual eclipse — has made no bones about starting social media drama already. @daM00N_ might have 600+ followers, but the sun is not among one of them. People's feeds were updated with her tweet, which shows a warning message before actually blocking the sun's account. To accompany the photo, she wrote, "i will block the sun."
Oh yes, she will. Twitter certainly chimed in; just take a look at the thousands of retweets and likes that keep piling up by the minute. In the event you don't believe her shenanigans, the moon has sent her social media following an update: She has indeed blocked the sun and there's photographic proof. Someone is definitely dominating her Twitter game, so other planets and stars might want to take notes before messing with the moon.
Talk about throwing shade, huh? Obviously, Twitter could not get over the hilarious account and its actions. Everyone has witnessed the dark side of the moon, and it's safe to say she is currently the Regina George of the solar system, but everyone's totally here for it.
Just in case you weren't aware of the hype Miss Moon has been causing, her solar eclipse is set to make history on Aug. 21. One can't just watch her throwing shade at the sun, though. Special glasses are required — though people are working around that — and cameras and phones need extra tools before capturing the big moment for yourself.
Prepare yourself for the moon's moment in the sun — it's going to be one heck of an experience.