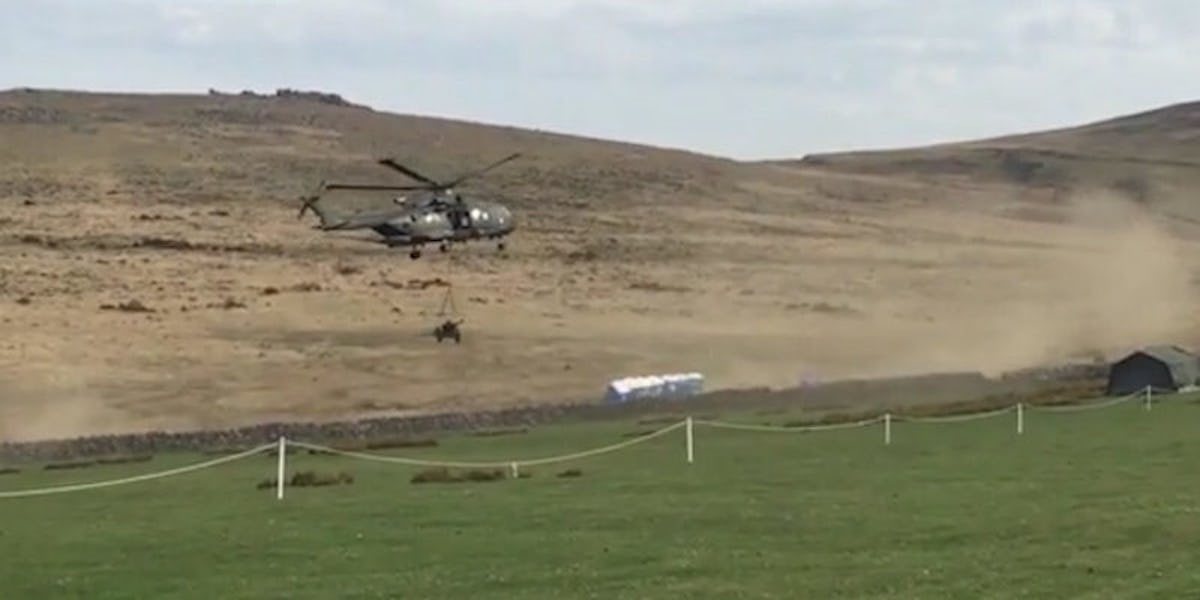 Helicopter Takes Out Huge Line Of Porta-Potties And Everything Goes To Sh*t
Daily Mail
A porta-potty is like the morning-after pill: You don't like using one, but you're very happy to have one when the time comes.
Whether you're at a festival and need to do drugs somewhere in private, or at a festival and need to shoot a burrito bowl out of your butt at the velocity of a T-shirt cannon, the porta-potty has been there for all people in their times of need.
And yet, we all know a porta-potty, if knocked over, instantly transforms into sh*t-coffin.
Now, we also know never to go into a porta-potty if there is a helicopter nearby, especially if, you know, that helicopter is carrying a monster military machine that will send nearly a dozen porta-potties spinning into the air like dookie-dreidels.
That's exactly what happens in this video. A British Royal Navy AgustaWestland AW101 Merlin helicopter -- yeah, English people name their helicopters after f*cking wizards -- was transporting a piece of artillery for a training exercise when it straight-up Armageddoned a row of porta-potties.
Thankfully, there were apparently no people in the porta-potties. This time, that is.
Citations: Military helicopter carrying artillery takes out portaloos (Daily Mail)