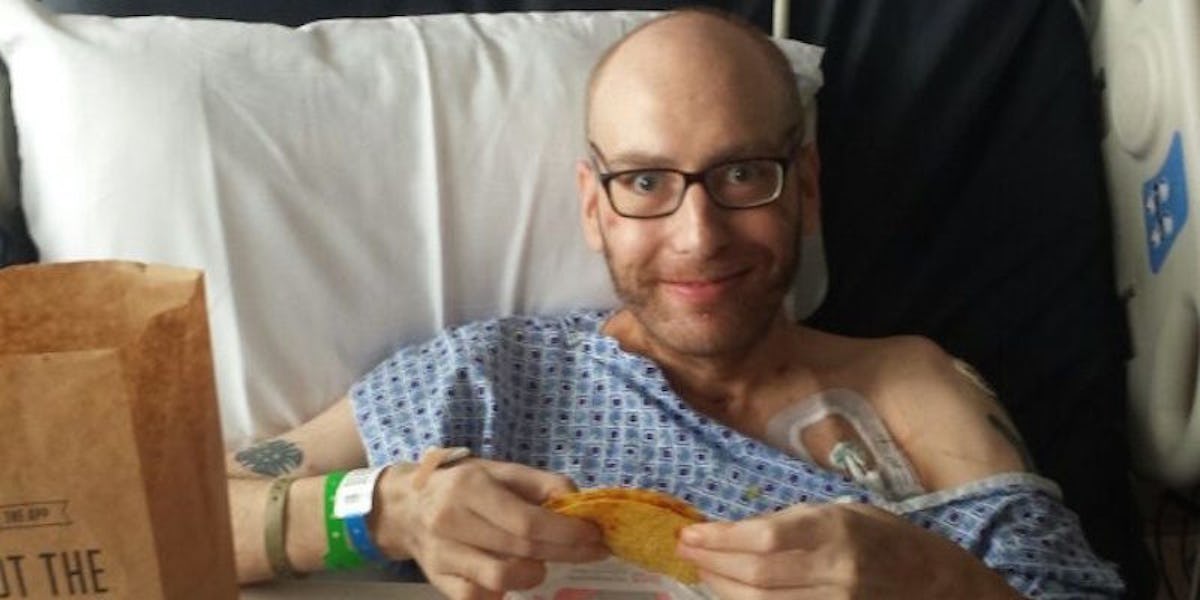 This Guy Woke Up From A 48-Day Coma And Immediately Asked For Taco Bell
Facebook
Usually, the only time the words "Taco Bell" and "coma" are used in the same sentence is when you tell someone you went to Taco Bell and eight hours later went into a diarrhea-induced vegetative state.
But for Jake Booth, the story was different. In February, he got bronchitis, and complications led to him getting pneumonia, which (because he's the unluckiest person in the world) then led to a heart attack that left him in a coma.
He was in a coma for 48 whole days. His loved ones had no idea if he'd ever wake up, and even if he did, they didn't know whether or not he suffered brain damage from the heart attack.
But, Jake did wake up, and the first thing he said was, "I want Taco Bell."
He didn't tell his family "I love you" or "I saw heaven," he said he wanted tacos. A man after my own heart.
It took him a while before he could actually eat solid food and enjoy his tacos, but soon enough, his dream came true.
His brother explained,
We'd all been waiting an entire month for him to eat those tacos... It was symbolic of the entire thing — more of a metaphor of him having woken up and being given a second chance at life.
He has a long road of recovery ahead of him, but he's keeping his spirits up.
Taco Bell even sent him swag for being literally the most loyal customer ever.
Jake's brother set up a GoFundMe page to try and help with Jake's recovery expenses, which you should donate to immediately.
Seriously, help this guy out. He's a champion.