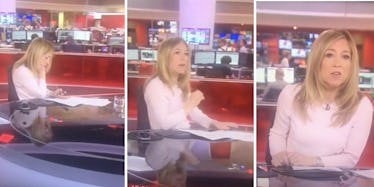 Everyone's Roasting This Anchor For Getting Caught Using Her Phone On Live TV
BBC
Seeing a reporter aimlessly staring at her phone is like seeing one of your teachers eating a pizza. News anchors cultivate a persona of weird, robotic professionalism, which is why it's always so fascinating to watch them mess up. This especially holds true for British reporters, who to my Americanized eardrums, all sound like they have read every book ever written.
Basically, all that happened was Joanna Gosling (no relation) didn't realize the cameras were rolling, so she just kept messing around on her phone, doing whatever BBC reporters do on their phones between takes. (Venmo-ing each other for elocution lessons? Buying galoshes on Amazon? Sending a text that has the word "crumpet" in it?)
She got back into it with lightning speed, but Twitter doesn't let stuff like this go very easily. Lot's of people said things all amounting to "HA!" (including me, right now, with this article). She responded cheerfully enough on her own Twitter, though:
Thanks for all your lovely comments about the blooper yesterday! Technical hitch meant I had no idea I was up next
Still, I really want to know what she was doing. I asked her on Twitter, but like most things I do on Twitter, it got no reaction whatsoever.
So here are my four predictions for what she might've been up to. Please, Joanna, if one of these is correct, I'd like to know.