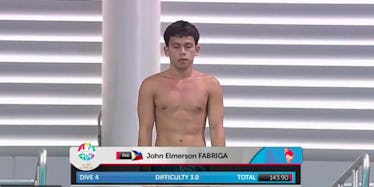 Everyone Keeps Saying These Photos From The Rio Olympics Look Like Porn
Twitter
Because you are a normal person and don't have a cable subscription, I can only assume that your knowledge of what is going on in the Olympics comes exclusively from social media and articles like this one. So let me catch you up.
Michael Phelps made this weird demon face, a gymnast destroyed his leg, Russia loves steroids and everyone on Twitter is extremely tickled by divers looking like they are naked because of the unfortunate placement of the info bar.
I'm talking about this sort of thing.
Now, some of you out there might say finding this funny makes me childish. To those people, I say this: I KNOW YOU ARE BUT WHAT AM I?! Also, eat farts, crap face.
I apologize to no one. Accidental naked illusions are objectively hilarious.
Also, the reactions on Twitter are pretty priceless.
But the images themselves are the best part. Honestly, I don't even know why I find this so amusing. I have about the same level of comedic intelligence as an 8-year-old who has just learned the meaning of the word "dingleberry."
Just accept it. It's funny.
For shit's sake, this guy's name is literally Steele Johnson.
Butts.
Peepees.
That name bar makes them look naked #Rio2016 #diving #China pic.twitter.com/dMZL3bdzWQ — Amanda Bee (@keepmeplayin) August 9, 2016
Butts AND peepees.
Journalism accomplished.