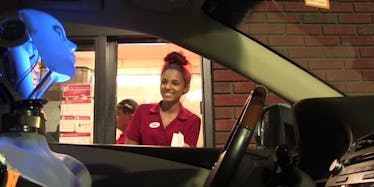 Guy Harasses More Drive-Thru Employees With His Hilarious Robot Driver (Video)
Leave the food service industry alone!
MagicofRahat carved a small niche for himself on the Web as a person who terrorizes unsuspecting fast food employees with horrifying homemade robots.
Using his signature combination of scary metallic voices, creepy featureless masks and ominous color changing lights, MOR has become a master at freaking out workers who think a robot apocalypse is happening.
In his latest video, one woman working the drive-thru window eloquently tells Rahat,
You artificially intelligently scared the sh*t out of my ass.
And that might be the funniest line ever spoken in the history of words.
If Will Smith yelled that in "I, Robot" during the chase scene in the tunnel, I guarantee you it would have won an Oscar.