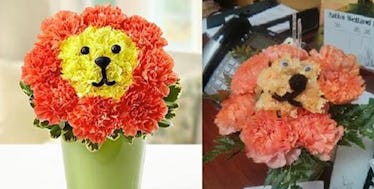 1-800-Flowers Definitely Had A Worse Valentine's Day Than You
Every year, florists around the world conveniently double their prices on Valentine's Day, but most people decide to burden the cost because their girlfriends like flowers and they're not stupid.
However, one of the major problems with major holidays is that things are inevitably going to go wrong if you have to deal with a large influx of orders -- like the orders 1-800-Flowers had to deal with on Saturday.
One of the problems with charging people $75 for a dozen roses is that they tend to get annoyed when the delivery doesn't go as planned, and the company suffered the full wrath of their customers on Twitter.
They did what they could with damage control, but you can only do so much after ruining the most romantic day of the year.
Slipping into someone's DMs isn't going to save the day.
The real product never lives up to expectations.
@1800flowers I think this could be consider a #fail attempt at getting the key to the heart. #orderednotdelivered pic.twitter.com/7B7XnSnghi — Darwin (@perez0210) February 15, 2015
RIP.
When you order the left from @1800flowers and the right shows up to your wife's workplace. pic.twitter.com/qiuN6VUXOL — Jeremey Rodriguez (@mountaingoat99) February 15, 2015
Only the good die young.
@1800flowers the roses you sent were very disappointing. A normal size one in 1st pic. Yours are as big as my thumb. pic.twitter.com/15Gx01uqrK — Brandon Bissell (@bjbissell) February 15, 2015
Live flowers are overrated.
@1800flowers nice #ValentinesDay gift. Here's a pic of the dead flowers. pic.twitter.com/tdywiHqGZg — E.M. (@bulldogev) February 15, 2015
I think the real tragedy is sending flowers to your sister, but that's just my opinion.
@1800flowers sent my sister DEAD & ROTTED flowers this year. Thanks for ruining a special day! pic.twitter.com/Djynbjku8q — Jena Nieves (@NievesJena) February 14, 2015
"Kill. Me."
@1800flowers it's the thought that counts right? New pitch line for #1800flowers. pic.twitter.com/7lGbZHi4Z4 — Jim szumlaski (@Zoomer112us) February 15, 2015
They should have called 1-800-Chocolates.
Dear @1800flowers this is not how someone should receive chocolates for Valentines Day. #disappointed pic.twitter.com/cVTRFBMaXL — Tiffany (@TSHesq) February 15, 2015
Citations: 1-800-Flowers Spent Another Valentineu2019s Day Having A Miserable Time On Social Media (Buzzfeed)