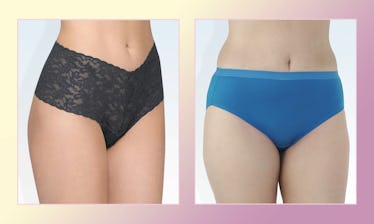 The Best Women's Underwear That Doesn't Roll Down
All comfort, zero annoyance.
Elite Daily/Amazon
We may receive a portion of sales if you purchase a product through a link in this article.
Finding the right underwear can feel like trying to find a unicorn. There are many styles and materials to consider, but one thing everyone wants? Underwear that stays put. The best women's underwear that doesn't roll down usually features a wide waistband or high-rise cut, plus a cotton gusset for breathability. That said, you'll find a few medium- and low-rise options here that have been vetted as roll-resistant by plenty of Amazon shoppers.
How To Shop For Underwear That Doesn't Roll Down
Material Matters
Cotton is a popular material for underwear since it's soft and breathable, and it's important to choose a pair with at least a strip of cotton lining along the crotch, often called a gusset, for ventilation and keeping your underwear dry. A bit of spandex in underwear (or other stretchy synthetics, like elastane) adds enough stretch to help it hug your waist and hips for added protection against the waistband rolling down; it retains shape well, too. Cute lace underwear is more likely to be made of nylon, which is not as breathable as 100% cotton but contours to your body and is lightweight, with waist and thigh bands that stay in place and are less likely to roll down.
The Right Style
In terms of cut, a bikini brief might just be the biggest offender when it comes to rolling. Skip those in favor of full-coverage underwear, like a high-rise brief, which has more material to help keep it in place. However, that extra material might not have the sultry appeal you seek. And depending on your body type, a high-rise option might not be working for you. If that's the case, some find success with a low-rise option that sits low enough below the stomach not to roll. For a thong style, look for one with a wider waistband to keep them in place.
With all this in mind, read on to shop the best underwear that doesn't roll down. Each underwear pick is comfortable, according to reviewers, and highly rated on Amazon, including a couple of sets with more than 10,000 ratings.
This article was originally published on