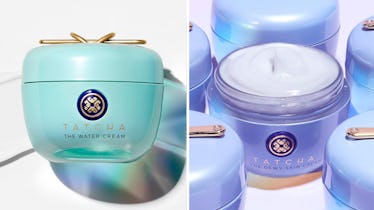 Tatcha Water Cream Vs. Dewy Skin Cream: What's The Difference?
Which one is best for you?
Amazon
We may receive a portion of sales if you purchase a product through a link in this article.
Back in 2017, Tatcha's Water Cream took the skin care world by storm when it became Sephora's top-selling moisturizer. A few years later, the brand released the Dewy Skin Cream, which was largely inspired by makeup artist Mario Dedivanovic's love for "super emollient creams" that give skin a "natural glow," according to brand founder Victoria Tsai. Both moisturizers have achieved cult-favorite status and are best-sellers around the world. But what's the difference between Tatcha's Water Cream and Dewy Skin Cream? To find out, I spoke with Rose Sparacio, one of Tatcha's in-house experts, who gives us the lowdown below. In short, however, the consensus seems to be that the Water Cream is best for balancing oily skin, while the Dewy Skin Cream gives skin a luminous glow and offers deeper hydration.
The Expert
Rose Sparacio, vice president of product innovation at Tatcha.
Similarities Between The Water Cream & Dewy Skin Cream
Both products are deeply hydrating and are formulated with hyaluronic acid and botanicals like algae and rice ferment, a popular J-beauty ingredient. They both contain a touch of actual 23-karat gold, which imparts a subtle, glowy sheen to the skin. (Fun fact: Tatcha sources their gold from a renowned gold workshop outside Kyoto.)
"Both work well under makeup, so it really depends [on] what type of skin look you're hoping for," Sparacio tells Elite Daily. Each product gives a slightly different finish underneath makeup — the Water Cream has a lighter texture and a pore-refining effect, so it's better for a matte makeup look, explains Sparacio. "The Dewy Skin Cream lives up to its name and provides a nice dewy, radiant glow," she says.
How To Choose Between The Water Cream & Dewy Skin Cream
The main differences between the two creams lie in their textures and "in their key ingredients and how they benefit the skin," Sparacio says. Your decision between the two creams will come down to two factors: skin type and personal preference.
"The Water Cream's balancing benefits are ideal for combination to oily skin," says Sparacio, noting that its wild rose and leopard lily target oil production to balance the skin. The Water Cream has a lightweight, gel-cream texture that sinks into skin for a natural finish. The Dewy Cream, on the other hand, was designed for drier skin types who want more intense hydration and nourishment from a cream. The Dewy Cream's star ingredients include an Okinawa algae blend and ginseng extract.
The climate you live in might help determine the best cream for you. Sparacio says that people with any skin type sometimes prefer the "pore-refining, mattifying finish" of the Water Cream, or the lighter texture if they live in a warm, humid climate. Likewise, the Dewy Skin cream "can also be used on combination skin for those who are looking for a richer texture, or who live in a cold, dry climate," she says.
This Reddit thread is full of folks with drier skin who prefer the Water Cream in the mornings or during the summertime, and those with oily skin who reach for the Dewy Skin Cream in the wintertime or use it as a night cream. Read on for a deeper dive into each product.
The Water Cream
Tatcha describes its Water Cream as giving "lightweight, pore-refining hydration." The moisturizer "bursts" upon application, delivering cooling hydration that feels water-like, not greasy. But what really sets this product apart are the skin-refining benefits of its Japanese botanicals — wild rose refines the look of pores and promotes smoother skin, while leopard lily helps control oil production. The cream also contains Tatcha's trademarked Hadasei-3, a trio of green tea, rice, and algae. Sparacio says the Water Cream helps to "minimize excess oil production, refine the look of pores, and calm the skin."
The Dewy Skin Cream
Tatcha's Dewy Skin Cream was formulated for people with dry skin, or who simply prefer a more hydrating, luminous finish. Its blend of Okinawa algae and hyaluronic acid work to promote plumper, more hydrated skin, and the cream also features Japanese purple rice, which is rich in antioxidants, and extracts and oils from botanicals like ginseng, wild thyme, and sweet marjoram.
Sparacio says the Dewy Skin Cream's benefits are both immediate and more long lasting. Upon application the cream leaves skin "soft, comforted, and deeply nourished," says Sparacio, adding that the cream "also helps to replenish ceramides to ensure an optimum skin barrier, aiding in the reduction of future moisture loss." As a reminder, Tatcha created this product with Kim Kardashian's makeup artist, Mario Dedivanovic, in mind, so you can rest assured that it makes an ideal base for your makeup.