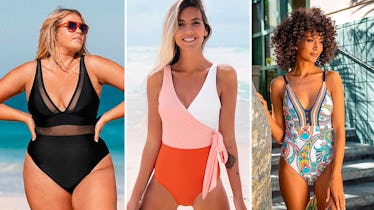 The 14 Best Swimsuits For Long Torsos, According To A Swimwear Designer
No riding up or bunching.
Amazon
We may receive a portion of sales if you purchase a product through a link in this article.
If you have a long torso, you're probably all too familiar with how difficult it can be to find a swimsuit that doesn't ride up, bunch up, or feel too tight, especially if you're shopping online. That's why Bustle reached out to Amahlia Stevens, the founder of Vitamin A Swim, for expert guidance on what to look for when shopping for the best swimsuits for long torsos. According to Stevens, you'll want to look for extra-stretchy designs with adjustable features for the best fit. "Most importantly, select a swimsuit that makes you feel confident, comfortable," says Stevens. Keep reading for more style tips from Stevens, so you can find a swimsuit that finally fits just right.
About The Expert
Amahlia Stevens is the founder of Vitamin A Swim, a California-made swimwear brand launched in 2000 that champions sustainable fabrics and innovation. After working in apparel design and branding for the likes of Abercrombie & Fitch and Hollister, she launched her own design and merchandising firm before turning her passion for swimwear into a career.
What To Look For When Shopping For Swimsuits For Long Torsos
If you're wondering whether or not you have a long torso, there's easy way to find out — all you need is a tape measure. "Start measuring at the base of your neck and calculate the distance to the top of your hips, while keeping the tape aligned with the natural curve of yourspine," Stevens advises. "Then, measure the length of your legs from your hip bones to the floor." If there's a significant difference in the proportions you've measured, that likely indicates you have a long torso.
With that said, let's dive into key features and styles that Stevens says will help you find a swimsuit that "sits comfortably and doesn't ride up or feel too short."
Stretch: Stevens says to look for stretchy fabrics, which allow for "ease of movement while maintaining their shape" and "ensure proper coverage and prevent the suit from riding up or pulling down." For that reason, this list includes suits with a minimum of 15% spandex.
Adjustability: Whether you prefer one-pieces or bikinis, adjustable or self-tie straps are a useful feature. "This allows you to customize the fit and ensure that the swimsuit accommodates your unique torso length," says Stevens.
Silhouettes: Stevens suggests opting for high-waisted bikini bottoms or one-pieces with high-cut leg openings, since they "draw attention to the waistline and create a more balanced overall look." Similarly, longline bikini tops, belted one-pieces, or those with plunging necklines can visually break up the length of your torso.
Colors & Patterns: Stevens suggests embracing patterns, like colorblocking, mix-and-match patterns, and bold prints, which can have a balancing effect. Horizontal stripes are also great, since they draw the eye downward. Additionally, Stevens suggests textured swimsuits, like those with ruching or those made from ribbed materials, to "create dimension and visual interest."
While this advice can help you find a swimsuit that fits properly, ultimately, you're free to wear any kind of swimsuit that makes you feel your best.
Whatever your personal style, you're sure to find a stunning swimsuit on this list that works for your fit needs. And know that all the swimsuits listed ahead are backed by tons of Amazon reviews from those with long torsos.