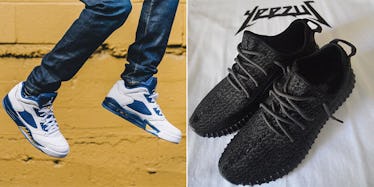 How Yeezy And Adidas Just Might Jump Over Jumpman And Nike
Instagram
When it comes to the sneaker game, Nike sits at the very top. With over $30 billion in global sales for 2015, Nike leads the second top-selling company, Under Armour, by a landslide at $3.96 billion.
Clearly, the market share is going one way, and competitors are left with scraps.
But there's a massive cultural influence sweeping the sneaker industry that needs to be accounted for. What's "cool" always dictates what sells, and people might forget, but it all started with one brand that changed the game: Adidas.
When Run DMC dropped their track, "My Adidas," back in 1986, they sparked a cultural movement all with something as simple as a pair of shoes. Of course, it was more than just that, as Darryl "DMC" Daniels told MTV News,
It was a song that was about our sneakers, but it was bigger than just talking about how many pairs of sneakers we had.
The rich history of the company, which, over the years, has been spurred by athletes and entertainers alike, is something it's starting to reconnect with in 2016. And people are taking notice.
After years of taking a backseat to Nike, Reebok and now Under Armour, Adidas is implementing serious strategies to become relevant again.
In 2016, Kanye West is providing that same cultural identity to which people who've never even worn Adidas can relate. To put it simply, it takes some lucrative collaborations, along with a great product, to sell some damn shoes.
In a 2015 interview, Kanye spoke about his Yeezy collection, saying,
We sell shoes that people want to line up for because we put love in them; we put heart in them. We want to make Christmas presents. We want to make something that people want so bad that it hurts them if they can't have it.
Of course, Yeezy left Nike to gain more creative control (and money) with Adidas, which is something other brands can learn from.
But one collaboration doesn't make a company great again.
Adidas doesn't have all its eggs in one basket and has had a decade-long-plus partnership with Japanese fashion designer Yohji Yamamoto, in which the company has successfully combined high fashion and sportswear.
The line is called Y-3, which is described as,
The Y stands for Yohji Yamamoto. The 3 represents adidas' three signature stripes. The - signifies the bond between the two.
Similar collaborations with Pharrell Williams and streetwear designer Jeremy Scott have added to the overall diversity of products and interest in those lines by consumers. Not to mention, signing NBA star James Harden to a $200 million contract is a clear sign Adidas is still committed to its athletic roots.
The company's approach to marketable retail wasn't always as it is now, however, as Adidas went through some dark days to get to this point.
Legend has it, the company had the chance to sign Michael Jordan as a rookie but let him walk before he went with Nike and created the Jordan brand, which is now the industry leader in sales and overall public interest.
In fact, it was that one move (or lack of) that pretty much buried Adidas for so long. There was no way Nike would have known MJ would go on to be the greatest of all time and Jordans would be what they are today.
In the same way, there was no way Adidas would have known guys like Derrick Rose, Robert Griffin III and Reggie Bush (all great signings in their time) would soon have their respective issues and be unable to carry the company.
But even before the days of Jordan, during the '90s, Adidas was dominated by other brands that recognized how important it was to connect the sneakers with the culture.
The tide changed when Adidas began focusing on collaborations during the 2000s, but missing out on all that time has put the company in a hole it's still climbing out of now.
The good news is, Adidas is on track to rise to the top once again.
Nike signed Drake following Kanye's departure, which definitely helped ease the pain of losing one of the most popular entertainers. Drake even dedicated a song on his most recent album to Jordan called, "Jumpman."
Of course, Kanye fired back at his past collaborator in his song, "Facts," saying, "Yeezy just jumped over Jumpman."
While pretty much everything 'Ye says is crazy, this line might actually make sense in a few years. Adidas has some serious catching up to do, but everything the company has done in the past eight-plus years has been heading down a path to being crowned the sneaker king of the sneaker world once again.
For what it's worth, Adidas is the most-liked sneaker brand on Instagram, and people are talking about its products now more than ever.
It will take more than a few collaborations to push Adidas to the top, as Nike has expanded outside of sneakers with a focus on clothing and outerwear.
But the company's approach to paying homage to the heritage it's built in the industry, while focusing on the future through new collaborators and designs, is what's pushing Adidas in the right direction.