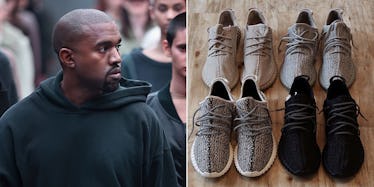 This Is Why Sneaker Companies Pay Celebrities So Much F*cking Money
Getty Images/Instsagram
These days, you don't even need to be an athlete to land a sneaker deal. You just need to be a celebrity willing to endorse the f*ck out of a brand.
From a marketing perspective, it's genius. Brands have finally figured out that paying influencers to rep their sh*t, instead of waiting around for the perfect athlete, is the perfect way to connect with consumers.
When Puma signed Rihanna as creative director back in 2014 in a $1 million, multi-year contract, the company knew she would help drive sales, but her influence has exceeded all expectations.
According to Bloomberg Business, her collaboration with the brand helped earn $975 million last quarter alone, a 17.1 percent increase in average sales.
Puma CEO Bjoern Gulden said Rihanna "...can sell sneakers and Puma is onto something here which [they] haven't seen yet in the women's area."
Puma also recently signed Kylie Jenner to a new shoe deal in hopes for similar success.
Kylie isn't alone in the sneaker collaboration game, however; in addition to Rihanna, Kylie joins many celebrities who are already sitting pretty on top of such money-making endorsement deals.
Kanye West undoubtedly has the most poppin' sneaker collab with Adidas. The rapper-producer said goodbye to Nike after the brand refused to give him royalties on his sneaker sales.
In fact, Kanye seemingly hates all other brands so much, he even vetoed Kylie's decision to join Puma.
During negotiations with Nike, Kanye argued,
I need royalties. It's not even like I have a joint venture. At least give me some royalties. Michael Jordan has 5 percent and that business is $2 billion. He makes a 100 million dollars a year off of 5 percent royalties.
Nike actually offered him a pretty good answer as to why he wouldn't receive royalties, but, of course, Kanye had the most Kanye response.
Nike told me, 'We can't give you royalties because you're not a professional athlete.' I told them, 'I go to the Garden and play one-on-no one. I'm a performance athlete.'
He then signed with Adidas in a deal reportedly worth $10 million. The rest is history.
Kanye's endorsement of the brand has catapulted it into a new era of relevance, making him the perfect example of how influencers have the leverage to completely revamp a brand's identity.
Need proof? Graphic designer Dan Freebairn pointed out that Adidas was the most-liked sneaker brand on Instagram in 2015, and the competition wasn't even close.
Sales for Adidas also went up following Kanye West's endorsement, but still have not surpassed Nike.
A large part of Nike's sales success, however, is owed to the brand's global reach in all sportswear marketing, which goes far beyond sneakers. In response to Kanye's departure, Nike signed Drake to a similar deal.
According Oregon Live, getting Drake on board was easy not only thanks to the company's revenue and ridiculous budgets, but it was also another smart entertainment get.
Of its $25.3 billion in revenue in the fiscal year ending in May, $14.5 billion was from footwear sales. And the company spent $2.74 billion on 'demand creation expense,' a category that includes marketing, advertising and athlete endorsement spending.
Whether or not Drake's influence would've matched that of Kanye's if he stuck with the Nike deal will never be known, but Drake was probably the best candidate to take Kanye's spot considering how involved he is in the sports and entertainment world. It's cross-promotion heaven.
Drake puts on so hard, he even dropped a song called "Jumpman" with Future to honor Nike's subsidiary Jordan brand.
Kanye responded to Drake in his song "Facts," saying, "Yeezy just jumped over Jumpman," and while he was taking a shot at his former sponsor, it ended up being exactly what Nike, and all other brands, want: free press.
But, let's not get it twisted. Kanye and Drake didn't invent artist-sneaker collaborations. This marriage goes way back.
In the '80s, Run DMC shouted out Adidas heavy in one of their tracks, subsequently sparking a movement that is still regarded as one of greatest organic marketing campaigns of all time. The best part is, they did it without even telling Adidas!
The free publicity for the brand made it look at artists, especially rappers, differently. From there, the sneaker world started taking the crossover seriously as a part of consumer economics.
Today, everybody from Justin Bieber to Heidi Klum, Wiz Khalifa and now Kylie Jenner all have their own line of sneakers. We can all expect to see the trend continue to explode not just in sneakers, but throughout the entire fashion industry.
In the end, consumers know what they want and what they think is cool, and in time, brands will catch up.