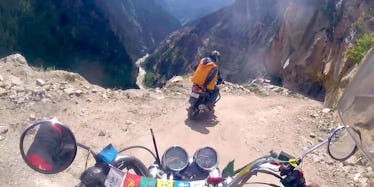 This First-Person Ride Along The World's Most Dangerous Road Is Terrifying
YouTube
If you thought the world's longest, highest glass bridge was a big deal, you'll love this.
Well, "love" is probably the wrong word. I don't know why anyone would love such a death trap! In a recent video uploaded to YouTube by Charanpreet Singh, we're taken for a nerve-wracking ride along the world's most dangerous road.
Located in valley of Pangi somewhere in India lies a winding, deadly road fit for only the most confident thrill-seekers. Singh's footage brings viewers to the edge of the road from a first-person perspective.
Sure, it's beautiful to look at from a distance but I'm not sure I'd want to be trapped on this road with nothing but an iPhone and a Vespa scooter. Something about that seems awfully dangerous.
Plus, I doubt this valley provides free wifi access so it's already somewhere I'd rather not be! Regardless, the footage on YouTube is exhilarating enough to never have to experience it in real life.
The video's description reads,
A video made by me while driving on one of the World's most dangerous road. Watch the breathtaking journey from Killar in Pangi Valley, Himachal Pradesh to Kishtwar, Jammu and Kashmir. This stretch from Killar to Kishtwar between two villages Ishtyari and Tyari is also know as cliffhanger and is one of the most dangerous, scary, and exciting road patches of India.
Dangerous? Check. Scary? Check. Exciting? Debatable.
Check out the video above for a closer look!
Citations: A First-Person Drive Along The World's Most Dangerous Road Is Some Terrifying Shit (Digg)