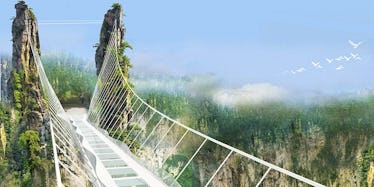 Are You Brave Enough To Cross The Longest, Highest Glass Bridge In The World?
YouTube
Looking for a new getaway destination to jot down on your bucket list?
Look no further than the longest, highest glass bridge in the world. Located in China, the Zhangjiajie Grand Canyon glass suspension bridge hovers nearly 985-feet above the ground.
Israel-based architect Haim Dotan is the mastermind behind the bridge's intricate design.
According to LYFSTYL, the bridge is set to open as of June or July of this year. Patrons will be able to experience more than 1,400 feet of glass beneath their feet overlooking the the Zhangjiajie Grand Canyon.
So far, the bridge holds 10 world records including the world's highest bungee jump and Asia's longest swing.
In a recent video uploaded to YouTube by the site's official channel, we're given a closer look at the bridge. Let's just say if you're afraid of heights, this is probably the last place you'd ever want to be. But it's awesome!
The glass bridge can hold up to 800 people at a time and has a width of nearly 20 feet. The tourist attraction is about three hours from Beijing, two hours from Shanghai and one hour from Xi'an.
Check out the video above for a closer look!
Citations: The Longest, Highest Glass Bridge In The World (Lyfstyl Music)