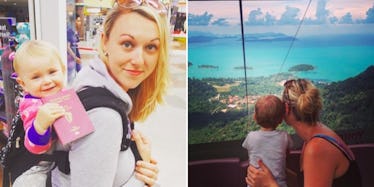 This Mom Takes Her Adorable Toddler On Amazing Trips All Over The World
Most new mothers spend their maternity leaves at home, adjusting to life with their new, little bundles of joy.
However, Karen Edwards isn't your average mom.
Yep, this Millennial mom decided to use her time off from working as a nurse to go on an epic 10-month adventure abroad with her partner, Shaun Bayes, and their newborn baby girl, Esmé!
Shaun left his job, Karen took maternity leave and the couple boxed up their possessions, sold their car and rented out their London home. With their adorable 10-week-old daughter, they headed to the airport to embark on a marvelous journey throughout Asia and Australia.
Karen told Daily Mail,
Both Shaun and I were keen backpackers before I fell pregnant and everyone thought we were completely nuts when we said that we were going to take Esmé when she arrived... We have no regrets, she got to experience new sights, scenes and smells as she grew and that is incredible.
Karen shares all her amazing travel experiences on her blog and also has a seriously impressive Instagram account featuring photos of the fam exploring all sorts of gorgeous destinations around the globe.
Karen certainly proves motherhood doesn't have to hold you back from seeing the world, and I think it's safe to say little Esmé probably already saw more places than most adults!
Meet 31-year-old Karen Edwards.
Karen isn't your average mom from London, England.
Shortly after giving birth to her baby girl, Esmé, back in November 2014, Karen decided to take maternity leave from her job as a nurse.
But instead of staying home, Karen and her partner, Shaun Bayes, grabbed their 10-week-old daughter, packed a single bag...
...and headed to the airport to set off on an awesome adventure around the globe.
Over the course of their 10-month trip, they managed to visit a variety of amazing places in Ireland, Australia, Singapore, Malaysia, Indonesia, Vietnam, Taiwan and Hong Kong.
Karen gained a lot of attention on social media...
Thank to her travel blog, Travel Mad Mum...
...and her Instagram account showing her daughter living it up with her adventurous parents.
But then again, you can't blame people for loving Karen's family photos in foreign locales...
...because, let's face it, Esmé is pretty darn adorable!
At barely 1 year old, Esmé has seen all sorts of stunning cities...
Soaked up the sun on breathtaking beaches...
Explored exotic jungles...
...and made some new, furry friends along the way!
At the end of the day, Karen just wants others to embrace their wanderlust. She wrote on her blog, "The overall aim is to inspire like-minded travel loving parents – your travel days do not have to be over. It is all about incorporating your little person into your way of life."
Citations: The world's youngest backpacker: Nurse takes her 10-week-old baby around the globe for TEN MONTHS while on maternity leave (and now they're about to jet off again) (Daily Mail)