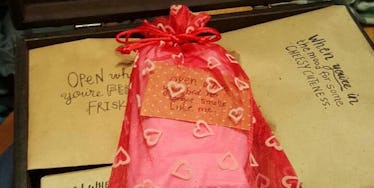 Woman Has Perfect Way To Keep A Long-Distance Relationship Going Strong (Photos)
A long-distance relationship is like the expert level of the dating game.
It's extremely difficult, and you're going to have to put in a lot of time and effort in order to win.
But if you manage to defeat the countless miles and time zones separating you from your partner, the reward at the end of the game is definitely worth it.
When it comes to making these LDRs work, the creative couples are usually the ones managing to come out on top.
Remember when we showed you that cute couple who used Instagram to keep their relationship going strong?
Well, it turns out those two aren't the only love birds who found a way to make the distance between them seem a lot shorter.
Recently, an Imgur user shared some photos of an adorable gift his girlfriend left him after visiting for a few days over the holidays.
Apparently, this clever gal stashed a briefcase under his table containing tons of envelopes for him to open when he's feeling a particular way.
She literally thought of every emotional occasion you could possibly imagine, and her sweet gift is guaranteed to give you some serious long-distance #RelationshipGoals.
Take a look at the pictures below to see these awesome messages.
The girlfriend of Imgur user leonnosyt stashed a briefcase beneath his side table on her most recent visit.
After returning home, she waited three days to tell him it was under there...
...and when he opened it up, he found a seriously sweet surprise.
The briefcase contained tons of different envelopes...
From ones for occasions of "cheesy cuteness"...
And frisky feelings...
To tasty love notes...
Sweet words...
...and cards sealed with kisses.
She literally thought of everything.
There's an envelope for when he's mad...
Another for when he's sad...
A note for when he's in need of a good laugh...
...and a message to make the distance seem shorter.
All of these envelopes are insanely cute, and this clever gal definitely takes the win for long-distance dating ideas.
Citations: This Couple Came Up With the Cutest Way of Coping With Their Long-Distance Relationship (Cosmopolitan)