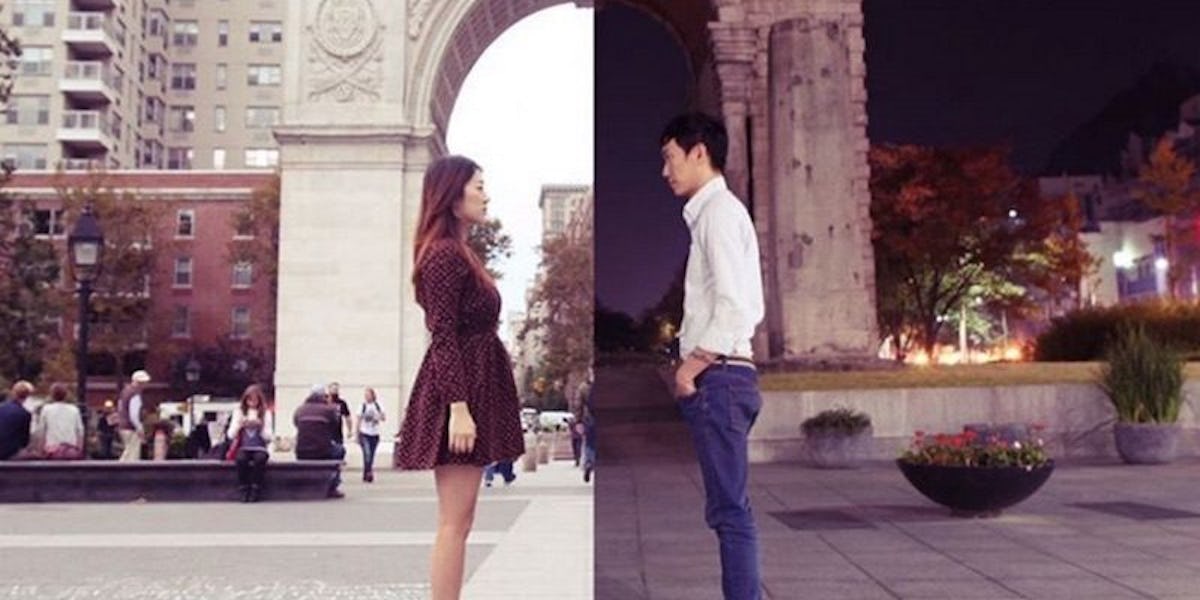 Long-Distance Couple Keeps Their Love Alive With Amazing Photo Series
Being in a long-distance relationship is by no means easy.
Quite frankly, it really f*cking sucks to be apart from the person you love.
Different time zones and busy schedules can make it hard to find the time to stay connected, and let's face it, chatting on Skype once a week is rarely enough to keep your relationship alive.
If there's one couple who knows this, it's Danbi Shin and Seok Li.
Shin currently lives in New York, while Li lives halfway across the world in Seoul, South Korea.
However, thousands of miles and a 14-hour time difference hasn't managed to weaken the bond between these two lovebirds.
So, what exactly is their secret to a successful LDR?
Well, the answer is quite simple: art.
Their photo project, dubbed "Half&half," seeks to find common ground between the two of them and explores how much of an effect location has on their lifestyles.
All of their eye-catching collages are simply incredible, and this Korean couple certainly proves true love has no boundaries.
Take a look at the pictures below to see the duo's amazing artwork.
Meet Danbi Shin and Seok Li.
Shin and Li are no strangers to the struggles of being in a long-distance relationship.
Shin lives in New York...
...and Li is in Seoul, South Korea.
However, these two manage to keep their relationship going strong despite being thousands of miles apart.
Now, you're probably wondering what the secret is to their success.
Well, it's quite simple. Art is the glue holding these two together.
For the couple's latest project, "Half&half," the dynamic duo known as ShinLiArt set out to create a series of mesmerizing collages.
However, Shin and Li don't just use any old photos to make their masterpieces.
They snap photos while they are video chatting...
Then combine the photos together into thought-provoking collages...
That highlight the similar and different effects...
...their locations have on each of their individual lifestyles.
All of their collages are pretty amazing...
...and it's not hard to see as their collection of photos grows, so does their love for one another.
Citations: Couple In Long Distance Relationship Connects By Creating Combo Pictures (Bored Panda)