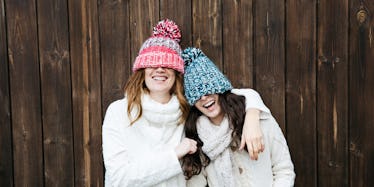 Your Romantic Winter Expectations Vs. The Sad, Snowy Reality (Photos)
Beatrix Boros
Winter and your ex have more in common than you might think.
During the sizzling summer months you think about all the good times you and winter once shared.
You start to really miss the memories of frosty flurries and steamy late nights by the fire and before you know it, you're practically begging winter to be with you again.
But as soon as you let that frigid motherf*cker back into your life, you slowly start to remember all of the snowstorms that make you despise this cold-hearted season in the first place.
The only difference is, unlike your ex, you can't just break up with winter and go back to hooking up with summer once you realize how much this season sucks.
So unfortunately, you have to put up with all of winter's bullsh*t until spring comes into the picture and winter finally let's you go.
Yep, we tend to romanticize this snowy season and expect it to be like some sort of winter wonderland from a fairy tale.
But the truth is, winter isn't all it's cracked up to be.
Take a look at the pictures below to see expectations vs. the reality of winter.
Expectation: Waking up to the first snowfall of the season.
Reality: LOL. Good luck getting to work on time this morning.
Expectation: Building a seriously impressive snowman.
Reality: Building a struggle snowman.
Expectation: Taking the perfect winter selfie in your fur hood.
Reality: Yep, totally nailed it.
Expectation: Having fun in the fluffy, white snow with bae.
Reality: Getting pelted in the face with a snowball by bae.
Expectation: Enjoying gourmet hot cocoa made with Swiss chocolate.
Reality: Sipping on some bougie Swiss Miss cocoa in a plastic cup.
Expectation: Keeping warm with an outfit that slays sweater-weather fashion.
Reality: Giving zero f*cks about fashion and wearing your living room rug around your neck because it's so damn cold outside.
Expectation: Showing off your new tricks on the slopes.
Reality: Eating sh*t on the slopes.
Expectation: Getting cozy by the fireplace.
Reality: Close enough, right?
Expectation: Turning up with your BFF during the holiday season.
Reality: Turning up the volume on your BFF, Netflix, in bed.
Expectation: Getting lots of Christmas cards filled with cash in the mail.
Reality: Finding lots of holiday bills in the mailbox.
Expectation: Finding a festive, eye-catching outfit for your office holiday party.
Reality: Yep, this will look great.
Expectation: Sitting down to a Martha-Stewart-worthy Christmas dinner.
Reality: Burning everything to a crisp and eating Chinese takeout for Christmas dinner.
Expectation: Singing carols with the fam at your annual Christmas party.
Reality: Getting fa-la-la-la-la-f*cked up to deal with all the annoying people around you.
Expectation: Scoring a kiss when the ball drops on NYE.
Reality: Missing the ball drop because you're still waiting in the three hour line to get into the club.
Expectation: Sticking to your New Year's resolutions to get in shape.
Reality: Uhhh technically, a circle is a shape.
Expectation: Finding the perfect bae for cuffing season.
Reality: Whatever, I'll just date myself.