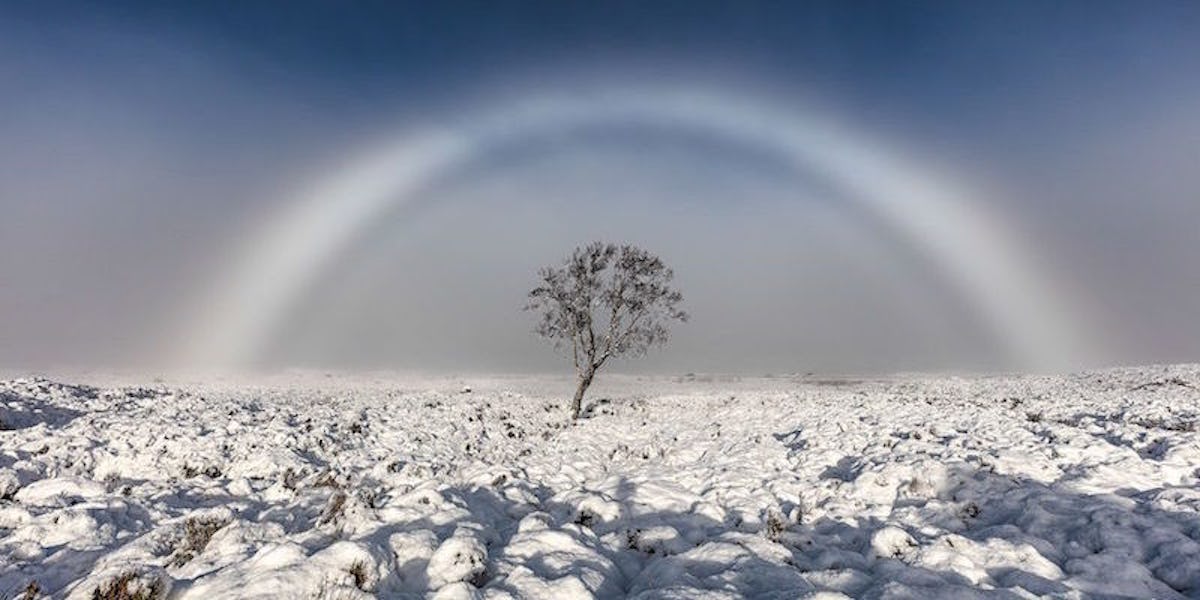 Gorgeous Pic Of Rare White Rainbow Reminds You How Magical Winter Can Be
REX.
It'd be pretty impossible to deny that the winter season is a magical one.
This beach bum over here is not a fan of the cold weather by any means, but I do fall irrevocably in love with the very first snowfall of the year.
Seeing the fresh, powdery blanket glistening in the sunlight the day after a storm is an unparalleled thing of beauty (and makes me yearn to hit the slopes with my skis).
The snowflakes sparkle as the wind gracefully brushes them off of the surrounding pine trees. There's something so serene about when your footsteps crunch in the snow while the whole world around you is quiet. You're truly walking in your very own winter wonderland where no one can disturb your vibes.
It's calm, peaceful and gorgeous.
To even further prove my point that winter is pretty much a fairytale, a photographer named Melvin Nicholson captured a stunning scene on Rannoch Moor in Scotland: a white rainbow.
Nicholson posted this photo to Facebook, starting off his caption saying,
I ventured down to Rannoch Moor today with fellow talented Scottish landscape photographer Scott Robertson in preparation for my four day workshop that starts this Thursday when I saw this unbelievably beautiful white rainbow also known as a fog bow. BIG THANKS to Scott Robertson Landscape Photography too for showing me this tree otherwise I would not have captured this shot.
This rare white rainbow was perfectly arched over a lone tree. The ends of the rainbow look like they melt into the snow.
The photographer continued to explain,
It is a colourless rainbow that is made up of tiny water droplets that cause fog. It's an amazing thing to witness and can generally only be seen if the sun is behind you when you are looking at it.
Nicholson concluded, saying,
As soon as I saw this wonderful isolated windswept tree, I knew that it had to be framed by the fog bow. Freshly fallen snow set the scene all around. It was just beyond magical and one of those days that you'll remember for a long time to come.
This photograph is such a beauty, and really defines the enchanting magic winter exudes.
Citations: An incredible white rainbow has been photographed in Scotland (indy100)