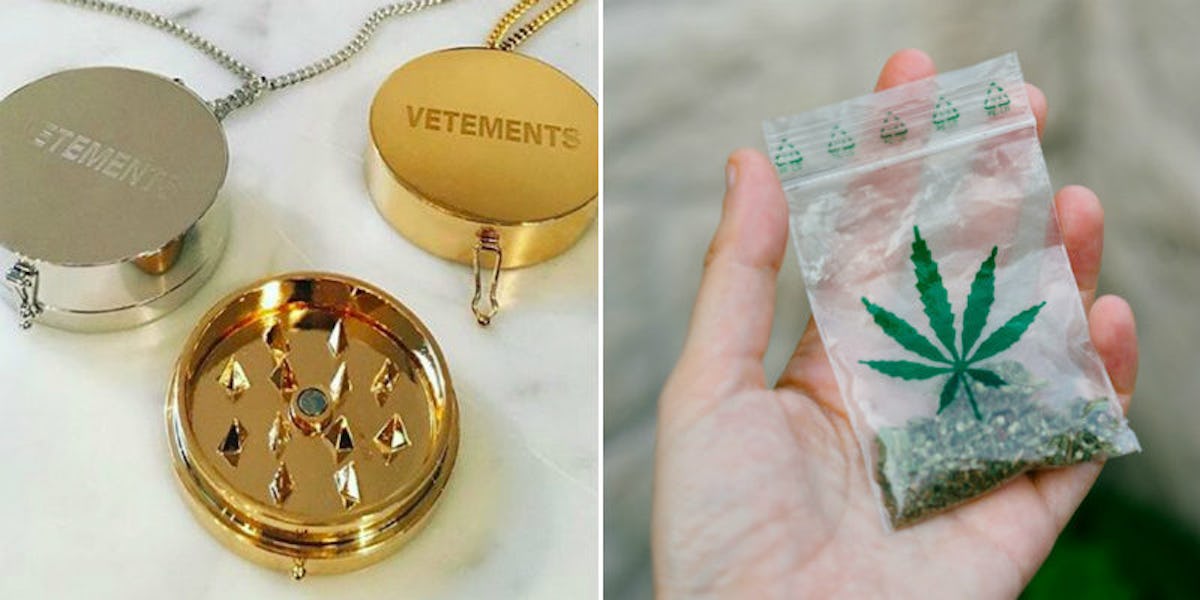 A $750 Weed Grinder Necklace Exists And It's Downright Ridiculous
Instagram/Dina Lun
Depending on your intake, weed can be a pretty expensive habit.
Personally, I'm not a big fan of the devil's lettuce, but I've got plenty of friends who aren't afraid to drop a ton of cash to make their grandma wonder just how they can eat that much at Thanksgiving dinner. (Those munchies are no joke.)
Marijuana is actually having a great moment -- recreational weed was just legalized in California, Massachusetts, Nevada and Maine on November 8.
So you no longer have to feign friendships with your dealer.
I know what you're thinking: "Hope, just what do I get my loved one who loves to smoke those wacky jazz cigarettes?"
Well, if you love them a lot, may I suggest this $750 weed grinder and necklace?
Vetements, a French brand, is offering the $750 weed grinder necklace.
Yeah, $750 for something to grind weed is a bit steep.
I would venture to say that anyone who could afford to spend $750 on a weed grinder could probably afford to buy more intense drugs.
Vetements, a Parisian "design collective" (and also French for "clothes") launched their first collection in fall of 2014, and they've been growing ever since.
Demna Gvasalia is Vetements' leader, and he attended the Royal Academy of Fine Arts in Antwerp only because he could afford it. At the time, it was 500 or 600 euros a year. Now, he's charging $750 for necklaces, so...
On top of this ridiculously priced grinder, Vetements also sells $920 t-shirts in case you ever find yourself thinking, "Hmm, yeah, my t-shirt is comfy and covers up my nip-nops well enough, but I just wished it cost me the same amount as a shared loft in Williamsburg with five other people."
Obviously, I'm just jealous. If I could afford such nice things, you know I would be purchasing that instead of donating to charity.
Citations: A $750 Weed Grinder Necklace Is Here Just In Time For The Holidays (Huffington Post)