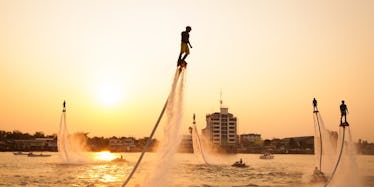 Yes, You Can Actually Compete With A Water Jet Pack This Summer
Shutterstock
Want to make this summer a memorable one? The season's fate lies in the hands of your unwritten to-do list.
In a recent video uploaded to YouTube by H2RO Magazine, we're taken along for a wild ride on the water as competitors duke it out to see who's the best jet-packer. Just like drone-racing, jet pack flying is now a competitive sport.
At the first-ever Hydro Fest event, jet boards, jet bikes and jet packs all took to the water in Pahrump, Nevada. From triple backflips to double axel sit spins, these water jet maniacs showed off some pretty impressive skill.
Seems to me like wakeboarding is suddenly a thing of the past. New technology allows for higher intensity sports. Sure, the risk you're taking by attaching yourself to a jet-powered watercraft as if it were a backpack is super dangerous but it's clear these guys have mastered the art of the sport.
The most notable comments from YouTube viewers include, "I should get out of my room more often" and "File > Save As... > Bucket List Type Shit.doc."
If there's one thing you should consider trying this summer season, it's attaching yourself to one of these jet boards and flipping around like a lunatic.
Check out the footage above for a closer look!
Citations: Hydroflight Competitors Are Phenomenally Good At What They Do (Digg)