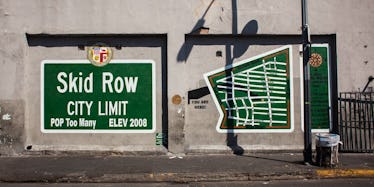 This Mind-Blowing VR Experience Takes You To The Heart Of LA's Skid Row
Wikipedia/Stephen Zeigler
If you've ever visited Los Angeles, there's a big chance you've strolled through famous neighborhoods like Beverly Hills, West Hollywood and Downtown. But there's a small chance you've mustered up enough curiosity to venture into Skid Row, one of the city's severely impoverished areas.
Over the years, Skid Row has gained a negative reputation as most low-income, high-crime areas tend to. But the reality of Skid Row isn't as dark as some people assume. In a recent virtual reality video uploaded to YouTube by RYOT titled Artist of Skid Row, we're introduced to Ramiro Puentes, a current Skid Row resident who's managed to rise above poverty, homelessness and addiction.
The interactive video begins with Puentes telling his story as he revisits memories gathered over the course of six years of being homeless and out of touch with himself.
After serving time in jail, Puentes eventually returned to Skid Row where he picked up a paintbrush for the very first time. Puentes, who is now an artist, photographer and vivid storyteller, worked with Todd Wagner, founder of visual charity network Chideo, as well as RYOT's Tyson Sadler, to tell his heartwarming story which brings viewers to the center of an LA neighborhood most people wouldn't even visit in broad daylight.
The production's synopsis reads,
In immersive virtual reality, we stand beside Ramiro as we watch him work. Easels, canvases, all surround him in a circle. And just past that you can see the makeshift tents and shelters of Skid Row's residents. Walk along these streets beside Ramiro, and hear him tell us not just of his past or his present, but of the future he paints for himself with his art.
Check out the video above and don't forget to interact for the ultimate VR experience!