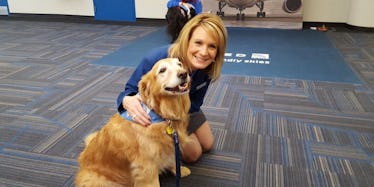 This Airline Brings Dogs To Airports To Calm Down Holiday Travelers (Photos)
Everyone knows flying home for the holidays can be pretty stressful.
In fact, if you're like most people, there's a good chance you dread traveling during the holiday season.
Nothing kills your Christmas cheer quite like crowded airports, long lines and flight cancellations due to the snow.
But before you decide to embrace your inner Scrooge and spend the holidays alone in your apartment, you should know one airline just made traveling a bit more bearable.
United Airlines just set out to bring a little extra joy to its travelers this season with a festive furry surprise: dogs!
That's right. United Airlines is bringing back its United Paws program and will have 230 comfort dogs scattered around airports to help passengers de-stress.
In a press release, veterinary consultant Dr. Walter Woolf said,
Research shows that just petting a dog releases oxytocin, the hormone associated with bonding and affection, and also decreases levels of stress, helps us breathe easier and lowers our blood pressure.
Too bad you can't take these cuddly little critters on the plane as your carry-on.
Take a look at the pictures below to see some pups from the United Paws program.
Traveling home for the holidays just got a lot more merry...
Come fly with me! #unitedpaws pic.twitter.com/5kDzjN0enU — Ruthie Comfort Dog (@RuthieComfort) December 21, 2015
...thanks to the United Paws program from United Airlines.
Go state! @SDSUCheer and @SDSUDanceTeam off to Hawaii! Met some furry friends. @united #UnitedPaws #unitedcontest pic.twitter.com/2JWQTOPbeE — Alli Serrano (@AlliSerrano) December 22, 2015
United Airlines will have over 230 comfort dogs in multiple airports...
#UnitedPaws Getting some "comfort" @ D1 today at Dulles International Airport! JUST LOVE THESE DOGS!!!! pic.twitter.com/kHopb51fL8 — Kim Denning (@KimKmd769) December 21, 2015
To greet passengers at gates...
Love! These Airports Will Let You Snuggle w a Dog Before You Board Your Flight https://t.co/EwR3Hzkg9V #UnitedPaws pic.twitter.com/P3Bk0MXlDO — Jeannie Power, CMP (@EvntGrrl) December 20, 2015
...and help them de-stress during their hectic holiday travels.
So Many four-legged friends at @Dulles_Airport today as part of @united #UnitedPaws program. More on @ABC7News pic.twitter.com/OQY3g19DvX — Bri Carter (@ABC7Bri) December 21, 2015
Petting a pup releases oxytocin, which helps you chill out and breathe easy.
Dogs in the airport? I'll fly everyday. @united #UnitedPaws #UnitedContest #ChristmasCard pic.twitter.com/ZjtRnK7SLL — Alaina Pinto (@alainapinto) December 22, 2015
Plus, who in his or her right mind wouldn't want to hang out with one of these adorable little guys before jetting off?
They could fly with this fellow! #unitedpaws pic.twitter.com/2WIEMBI1jP — Denise Velasquez (@VelasquezDenise) July 6, 2015
United Airlines will be running the program from December 21 to December 23...
Stress doesn't stand a chance w/ #UnitedPaws pups on screen. Tune in to #Periscope today: https://t.co/j3OL50CkqJ pic.twitter.com/UhtUbMhinF — United (@united) December 22, 2015
...and you'll be able to find these precious pooches scattered around airports in Chicago, Washington DC, Cleveland, Denver, Houston, Los Angeles and Newark.
#UnitedPaws me an Luca chillin in the airport! pic.twitter.com/ULEvTHvYvJ — paul Buc gittens (@buctown14) December 22, 2015
Seriously, as long as you have puppies to play with, who cares if your plane is delayed?
THIS IS THE BEST DAY THANK YOU @UNITED #UnitedPaws #UnitedContest pic.twitter.com/8jhsEqn1K9 — Carley Søhn (@carley_marissa) December 21, 2015
Citations: Travel fur-cast just got less stressful: United Airlines adds comfort dogs (WTVR-TV)