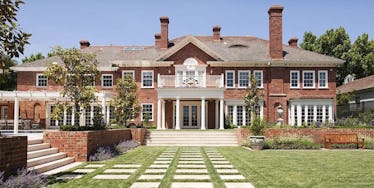 There's A Secret, 'Dark Knight'-Inspired Garage Underneath This Mansion (Photos)
Molecule
If you remember scenes from "The Dark Knight" correctly, you remember wanting to model your life after Bruce Wayne's.
Maybe you wanted the Batsuit or maybe it was the iconic Batman Tumbler you desired. Either way, this movie pretty much changed everyone's long-term goal in life. I know it changed mine!
In fact, one undisclosed Melbourne homeowner decided he or she wanted to create an underground "Batcave" similar to the one in "The Dark Knight" underneath his or her house.
To make it all possible, the homeowner commissioned architecture firm Molecule to get the job done.
Check out the photos below for a closer look!
Believe it or not, the front of this Georgian-style mansion didn't always look like this.
The home was renovated after its owner wanted a Batcave-style garage with a secret entrance. Remember Bruce Wayne's Batcave?
To recreate the design from "The Dark Knight," the property surrounding the home had to be excavated.
Once contractors got to work, things started to come together.
The home now includes a secret stairway providing entry to the "Batcave" from the home's main floor. Villains will never figure this one out!
Now, here's where things get awesome. The "Batcave" also features a secret vehicle entrance underneath the home's tennis court.
Underneath it all, you'll find a sleek, futuristic garage space perfect for parking lavish supercars and a Batmobile, of course!
And just like you might've seen in "The Dark Knight," the ceiling lights up, so you can show off your fine art and luxury cars in style.
Molecule, the architecture firm behind this beauty, revealed, "The indelible image of Bruce Wayne's garage in 'The Dark Knight' became a totem of the design approach, sponsoring the Batman-inspired naming of the project as the 'Wayne Residence.'"
And despite bearing the name "Wayne Residence," no one will ever know just by looking at this house the homeowner has a private underground lair below it!
Citations: Yes, This Architecture Firm Actually Designed A Hidden Batcave-Inspired Garage (Playboy)