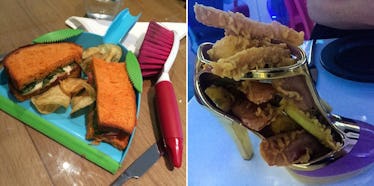 This Hilarious Twitter Calls Out Hipster Restaurants That Have Gone Too Far
We've all heard the old adage, "If it's not broke, don't fix it."
A prime example of this? Plates.
These ceramic disks are the perfect apparatuses for holding food, which is probably the reason the design of these things has looked the same for so damn long.
However, there's an alarming number of alternative establishments that appear to be going against the mainstream by serving their meals on all sorts of absurd sh*t and, quite frankly, someone needs to stop these hungry hipster shenanigans.
We recently came across a hilarious Twitter account called We Want Plates that's on a mission to plate-shame these offenders by calling out all the ridiculous ways hipster restaurants serve food.
And we're not just talking mason jars and wood boards, either.
From shoes filled with fried food and clipboard platters to coffee served in test tubes and deconstructed dishes arranged in dust pans, We Want Plates proves that nothing is safe from being turned into a bougie plate these days.
Take a look at the pictures below to see some of these hipster food crimes against humanity.
Who needs a plate when you can have your fancy fish and chips in a damn frying pan?
"Here's your fish and chips. Enjoy." *cuts fish, pan rotates, handle knocks drink over* (Pic: @stevepullan) pic.twitter.com/SEC55z1ylh — We Want Plates (@WeWantPlates) April 4, 2016
Or, how about some charcuterie on a clip board?
No tasting menu is complete without some meat on a clipboard. (Pic: @LilMissCakes) pic.twitter.com/nuGesFcWrp — We Want Plates (@WeWantPlates) November 12, 2015
There's nothing like starting the day with some eggs and beans eaten straight out of a bougie surgical tray.
Breakfast in a surgical tray. Beans in a glass. Bread on a #bumpaddle. Chef in a headlock. (Pic: @ThatDamnYank) pic.twitter.com/OH2IfWtzed — We Want Plates (@WeWantPlates) April 3, 2016
Like seriously, is this real life?
"Chef, The Four Horsemen of the Apocalypse have arrived, they've ordered the tempura shoe to share." (Pic: @eeketht) pic.twitter.com/8d0NCWhrSX — We Want Plates (@WeWantPlates) March 28, 2016
Who knew we've all been using dust pans wrong this whole time?
I told the waitress, ripping the piss, that she forgot to give me the brush. Ripping the piss, she brought me one. pic.twitter.com/OoX496S3pW — Ross O'Carroll-Kelly (@RossOCK) March 21, 2016
This deconstructed bolognese is the epitome of hipster fine dining.
You're going to love this: DECONSTRUCTED SPAG BOL, La Folie Douce, Val d'isere, €29 (@WeWantPlates) pic.twitter.com/81icv1VyEn — Ed Smith (@rocketandsquash) March 17, 2016
Yes, I'll take a glass of corn on the cob...
When you're recovering from the shock of chips in a glass and your corn on the cob arrives. (Pic: @thechocbakery) pic.twitter.com/ZiC45EwQnF — We Want Plates (@WeWantPlates) March 6, 2016
And some tapas in a teacup...
Tapas in a teacup. Somewhere there's a cafe serving Earl Grey in little terracotta dishes. (Pic: @FrannyMontanny) pic.twitter.com/lNmMCFI4Kv — We Want Plates (@WeWantPlates) December 12, 2015
...plus a pint of Shepherd's Pie, please.
You can't go wrong with a classic Shepherd's Pie. Unless you're the Old George Inn, South Cerney. (Pic: @headcovers) pic.twitter.com/eNp4qLS1ou — We Want Plates (@WeWantPlates) January 24, 2016
It's so much easier to shovel food into your mouth when it's served on an actual shovel.
Barcelona: Catalonia's capital of gastronomy, where they stick your breakfast on a shovel. (Pic: @garethlangston) pic.twitter.com/RtMJHFlCjG — We Want Plates (@WeWantPlates) February 10, 2016
Excuse me, I believe I asked for a cup of coffee, not a science experiment.
My mate ordered a strong black coffee and I've never been so angry in all my life wtf even is this? pic.twitter.com/5R8v81mjCc — IncrediblyRich (@IncrediblyRich) January 17, 2016
Meat piled in the middle of a bird's nest? Now I've seen it all.
Somewhere, there's a very pissed-off pigeon looking for its nest. Unless he's in the starter. (Pic: @MJDoroszuk) pic.twitter.com/m7OV1clFHR — We Want Plates (@WeWantPlates) January 3, 2016
Seriously, WTF is this hipster nonsense?
"Today's specials include fish on a stick in a rock on a mirror." "Literally?" "Literally." (Pic: @Sinead_aka_Nade) pic.twitter.com/9IiFGzJh9P — We Want Plates (@WeWantPlates) March 1, 2016