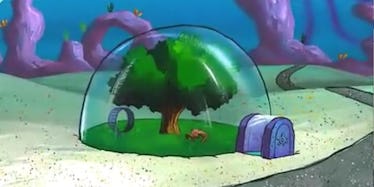 This Epic Tent Looks Just Like Sandy Cheeks' House From 'Spongebob Squarepants'
Wikia
Holleyweb, home of the geniuses behind bubble soccer suits and water walking balls, has really hit it out of the park with their latest invention.
Behold the bubble tent.
It's a transparent tent that allows you to enjoy the wonders of nature without having to actually be in it. Made out of waterproof, fire retardant material, bubble tents are perfect for rainstorms and camping near the fiery pits of hell.
You can fit two people inside comfortably, and at the low, low price of $1,100, you might as well get one for every member of the family.
Seriously, though, one grand isn't that much for a life-size version of Sandy Cheeks' house. Just don't go trying to pitch your tent at the bottom of the ocean, because it has to be plugged into an outlet if you want to keep the thing inflated.
Citations: This Clever Bubble Tent Lets You Enjoy Nature's Best Views (House Beautiful)