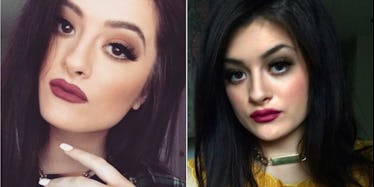 This 19-Year-Old Looks So Much Like Kylie Jenner, It's Actually Scary (Photos)
There's no shortage of celebrity doppelgängers these days.
If you're walking around Hartland Township, Michigan and happen to stumble upon Kylie Jenner, I have some bad news for you.
You probably didn't just run into your favorite teen celebrity.
But you probably did just see her seriously impressive lookalike, Gabrielle Waters, and that's basically just as good as meeting the real deal, right?
Recently, this 19-year-old gained a lot of attention on social media due to the fact that she's pretty much a spitting image of the Kardashian clan's youngest sister.
Between her gorgeous brown locks, boho-chic style and plump, exaggerated pout, this teen has Kylie's look down to a science.
Seriously, it's pretty much impossible to walk past her without doing a double take.
Take a look at the pictures below to see Kylie's long-lost twin.
This may look like Kylie Jenner...
...but don't let the big lips fool you.
This girl isn't a Jenner at all.
She's actually Gabrielle Waters...
...a 19-year-old living in Michigan.
Gabrielle idolizes Kylie so much and now she's basically known as her clone.
Gabrielle has Kylie's signature look on lock...
And perfectly nails everything from her tousled brown locks...
And flawless brows...
...to Kylie's perfect, overdrawn pout.
Apparently, it doesn't actually take a lot of work to look like Kylie's twin.
According to Gabrielle, all she needs is some false eyelashes...
...and a bit of strategically placed lip liner to achieve the look.
So what is it that makes Gabrielle admire her famous doppelgänger so much?
In an interview with Mirror, she revealed, "What I like about Kylie is that she is very beautiful and encourages girls to do what they love and be happy."
Citations: Kylie Jenner's Look-Alike Will Make You Do A Double-Take (Huffington Post)