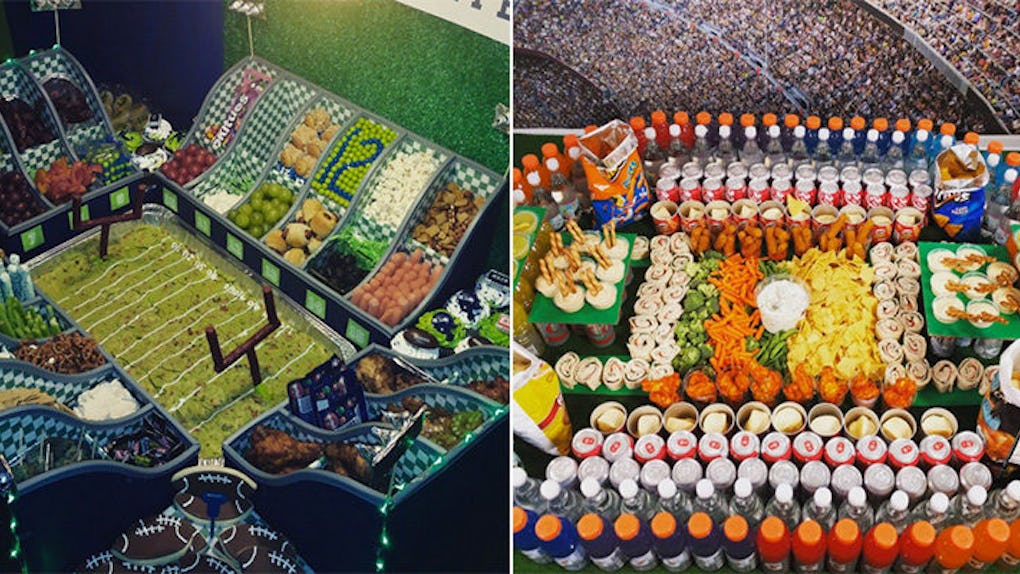 Instagram
18 Super Bowl Snack Stadiums That Will Let You Eat Like An Champion
Everyone knows there are two things you need to throw a successful Super Bowl party.
You need a super-sized screen to watch the game and a mountain of mouthwatering snacks, of course!
Like many of my fellow ladies, I've never really been a huge fan of actually paying attention to the game.
I'm not sure if it's because I have no idea what's going on or if I'm just too busy keeping count of how many buffalo wings are still left on the snack table.
However I do know, just like the players on the field, not all Super Bowl snacks are created equal.
When it comes to game-day eats, you have the people who stick to the basics by serving up simple snacks like chips and dip, and then you have the real champions who go above and beyond by building their very own snackadiums.
Now, if you're wondering what the hell a snackadium is, let me fill you in.
It's basically a sports stadium replica built out of badass snacks to make all your delicious dreams come true.
So in order to give you some football food inspo, we set out to find a bunch of incredible snackadiums that totally take the win for game-day grub.
Take a look at the pictures below to see these epic edible stadiums.
Now this is how you do Super Bowl Sunday snacks.
Just look at this stunning stack of sandwiches...
And this ballin' pile of snacks.
Those dip shots are the real MVP of the Super Bowl.
This snackadium will keep you hydrated throughout the entire game...
And this epic stadium even has its own parking lot.
Just look at the perfectly frosted brownie field...
This sweet dessert stadium, complete with marshmallow players...
This gorgeous color-coordinated display of game day food...
...and these badass rice crispy bleachers.
Soda cans are a great way to add some structural support.
Or you can always go for some stadium walls made of subs.
This is how you do chips and dip on game day.
You can't go wrong with a kebab section in your stadium seating...
Or a snackadium that lets you score some tasty sandwiches during half time.
Those fried football fans look downright delicious.
This sugar-coated dessert stadium is guaranteed to crush the competition.
Extra points for cupcake yard lines!