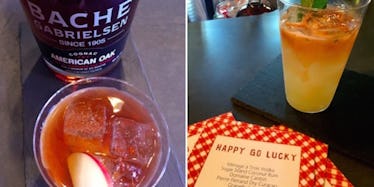 These Are The Cocktails You Should Be Drinking All Summer Long
Bache-Gabrielsen Ménage à Trois
There's nothing better than kicking back with a cool cocktail on a hot summer's day. However, when it comes to finding the perfect summer-approved sips, it's important to know that not all cocktails are created equal.
Not too long ago, we showed you how to turn your beloved blushing wine into all sorts of refreshing rosé cocktails. If you thought those were awesome, you'll be glad to know those sweet sips aren't the only delicious drinks we have up our sleeves.
That's right, Elite Daily recently teamed up with three insanely talented bartenders to create some exclusive drinks inspired by the best times of the day to turn up.
Tommy Flynn showed us how to whip up an epic vodka cocktail fit for all of your day drinking endeavors, while Pamela Wiznitzer gave us the inside scoop on how to craft the perfect Cognac cocktail for Saturday night.
Everyone knows that no weekend would be complete without Sunday brunch, so April Wachtel showed us how to put a spin on the boring brunch sips by creating a cocktail that mixes bourbon and bubbles.
All of these summer drinks look insanely tasty, so no matter what time you begin boozing, you won't be disappointed by any of these creative cocktails.
Check out the pictures below to see the perfect cocktails for every weekend drinking occasion:
Day drink the right way by mixing up some "Happy Go Lucky" cocktails.
Ingredients:
1 part Ménage à Trois Vodka 1 part Sugar Island Coconut Rum .25 parts Domaine Canton .25 parts Pierre Ferrand Dry Curaçao 1.5 parts grapefruit juice .25 parts lemon juice Four to five mint leaves A dash of Angostura Bitters
Directions: Shake all ingredients and strain into a Collins glass. Garnish with mint leaves and grapefruit slice.
Embark on a night of drinking debauchery with a "Saturday Night Fever".
Ingredients:
1 part Bache-Gabrielsen American Oak Cognac .75 parts Applejack .5 parts Benedictine .5 Lillet Blanc 1/3 Barspoon Demerara Syrup 3 dashes of Angostura Bitters 3 dashes of Chocolate Bitters
Directions: Stir all ingredients and serve over one big ice cube. Garnish with an apple fan.
Or, add some boozy bubbles to your Sunday brunch with a "Red Hot Summer".
Ingredients:
1.5 parts Maker's Mark Bourbon .75 parts fresh lemon .5 parts honey syrup .5 parts Amaro Nonino 3 raspberries A splash of Champagne
Directions: Add raspberries to a shaker and muddle. Add ice and remaining ingredients, except Champagne. Shake for 10 to 15 seconds until chilled. Double strain into a Champagne flute, and top with Champagne. Optionally garish with a fresh raspberry or lemon twist.