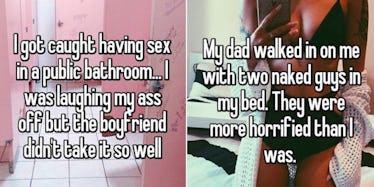 These Stories Of People Who Got Caught Having Sex Will Make You Cringe
There's nothing like the thrill of getting down and dirty in places that are supposed to be off limits.
But at the same time, pushing the boundaries of PDA always comes with some risk, and let's face it, there's nothing worse than getting caught with your pants down.
Literally.
Remember when I gave you a glimpse of people confessing their most embarrassing sex stories?
Well, if those made you laugh, you'll be glad to know those super awkward situations aren't the only cringe-worthy confessions I have up my sleeve.
Whisper, the app that lets you spill the beans on all sorts of juicy secrets, recently asked a bunch of people to share their stories of getting caught while getting it on.
The stories range from things like people having their parents barge into their bedrooms while they're getting frisky with bae to getting some unwanted attention in a public bathroom stall and, the worst one of all, being caught by a significant other while in the act of cheating.
I think it's safe to say we can all be thankful we're not the people in these stories.
Take a look at the pictures below to see these scandalous sex confessions.
Can I get anything for you guys? Some snacks? A condom?
Hi, Daddy...I swear it's really not what it looks like.
We wanted something that wasn't on the menu.
I got it on at a conference. #SorryNotSorry
So that's how young kids are doing it these days.
You just have to laugh it off.
We gave the school's security officers a lesson on anatomy.
Tryin' to catch me riding dirty.
Well...this is awkward.
You think he would be used to it by now.
There's nothing like the thrill of some steamy stairwell sex.
This deserves a sibling of the year award.
I guess the secret's out now.
It's time to find a new BF and BFF.
No, it's fine, just keep it down. You're upsetting the other customers.
For more sex confessions, check out Whisper.