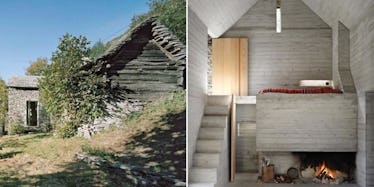 This Secluded Stone House Is The Perfect Place For A Homebody (Photos)
Everyone knows looks can be deceiving, and you should never judge something solely by its outward appearance.
Case in point: really old homes.
When it comes to stumbling upon some pretty impressive pads, there's one house in Linescio, Switzerland that certainly proves it's what's on the inside that counts.
At a first glance, the outside of this 200-year-old structure pretty much looks an old pile of crumbling pebbles.
However, take a peek inside and you'll quickly discover this cottage has a pretty awesome interior.
Recently, Buchner Bründler Architekten set out to give the inside of this home a modern makeover by essentially building a brand new house within the existing stone structure.
While the worn exterior walls of this seasoned residence were left alone, the interior was updated with sleek concrete surfaces and a stylish rustic design that's the epitome of modern countryside minimalism.
Take a look at the photos below to see this awesome renovated house.
From the outside, this old house looks like it's falling apart.
But, you'll find a beautiful, modern interior hiding behind those crumbling walls.
Buchner Bründler Architekten recently renovated this 200-year-old home in Linescio, Switzerland by building an entirely new house inside of the existing exterior.
By updating the inside with sleek surfaces and a stylish rustic design...
They were able to transform this rugged hillside home...
...into a pretty impressive pad oozing modern countryside minimalism.
In order to preserve the original stonework...
...each new concrete slab was painstaking assembled inside the home.
If you open the tall wooden shutters, you'll find the house still has its original window frames.
Every room in the house was updated with contemporary concrete finishes.
There's even a pretty cool bathtub built right into the concrete floor.
It's not hard to see this old house is truly a hidden gem.
Citations: It Looks Like A 200-Year-Old Crumbling Home, But Inside Itu2019s A Different Story (Arch Fly)