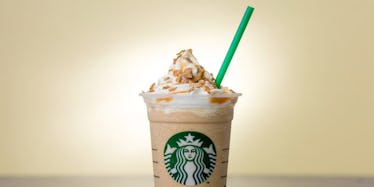 Starbucks Just Released An Incredible Frappuccino Flavor For Summer
Starbucks
It's no secret Starbucks has really been stepping up its frapp game lately.
Last week, it answered all of our caffeinated prayers by bringing back the sweet S'mores Frappuccino. Then, Starbucks blessed us with the return of the glorious birthday cake beverage.
Now, it's making all of our frappuccino dreams come true once more with its latest frosty confection.
Allow me to introduce you to the new Caramel Waffle Cone Frappuccino.
That's right. From now until the end of the summer, you can take your caramel-flavored coffee to the next level by turning it into a decadent, summer-inspired drink.
The Caramel Waffle Cone Frapp features a creamy coffee made with waffle cone syrup and dark caramel sauce that is then decked out in whipped cream, sprinkled with waffle cone pieces and finished off with some more dark caramel sauce for good measure.
If that's not enough to make you jump up from your desk and sprint to the nearest Starbucks, you'll be glad to know our favorite coffee chain is also bringing back Frappuccino Happy Hour, which lets you score a frozen treat for half price from 3 pm to 5 pm.
So yeah, now you basically have no excuse not to try one of these delicious drinks.
Check out the pictures below for a closer look at the new frapp flavor.
Feast your eyes on the Caramel Waffle Cone Frappuccino.
This divine drink is the latest flavor to join the Starbucks frozen lineup...
...and this thing looks like a coffee lovers dream come true.
It takes caramel frappuccinos to a whole new level...
By adding some waffle cone syrup and dark caramel sauce into the mix...
And then topping the whole thing off in a mountain of whipped cream...
Waffle Cone Frappuccino...need we say more??!! @KirbyLuvsCoffee pic.twitter.com/EN143TRMz5 — rob yunker (@ryunke1) April 14, 2016
...followed by some waffle cone bits and dark caramel sauce, to boot!
In Chelsea w @maliss & Mike sampling a delicious waffle cone Frappuccino. Yummy pic.twitter.com/x6WldQXqVl — Tim Waites (@TimWaites) April 21, 2016
If you're looking to snag one of these sweet sips...
The NEW Caramel Waffle Cone Frappuccino! #YUMMY #DesMoines #westdesmoines #holyfrap #dsm #bnMidwest pic.twitter.com/Maefzc9fXt — BNUniversity Ave (@BNUniversityAve) April 28, 2016
...they'll be available on the Starbucks menu from now until the end of the summer.
Just got a sample of the next frappuccino to join the line up, Caramel Waffle Cone! Looking forward to next week! pic.twitter.com/FFYZKoW5HZ — Fran Parra (@FParra1111) April 28, 2016