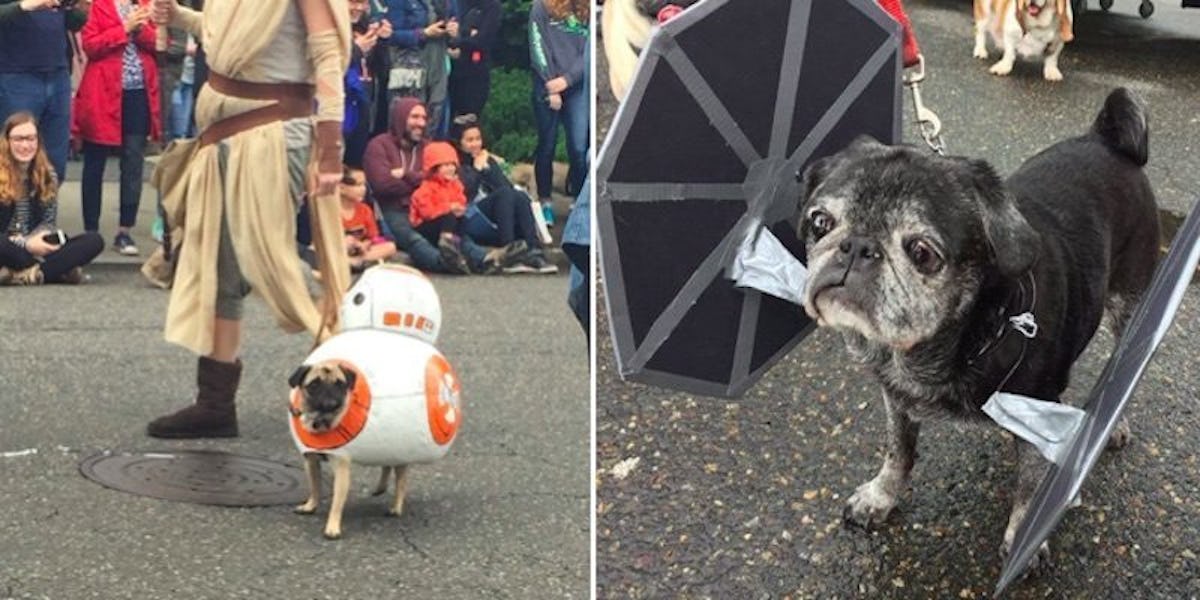 There Was An Epic 'Star Wars'-Themed Pug Parade And The Photos Are Adorable
It's no secret dogs make everything in life better.
Remember when we showed you that epic beach bash for man's four-legged BFF a while back?
Well, if you thought that Corgi beach party was the best thing that ever happened to giant puppy playdates, you might want to brace yourself.
Apparently, there was just an adorable parade specifically for pugs in Portland, Oregon.
Pugs dressed up in "Star Wars" costumes, to be exact.
Yep, that's right. The crazy pug owners of Portland just made all of our wildest sci-fi dreams come true by having an epic "Star Wars"-themed pug parade.
As you can probably imagine, this dog event was downright delightful -- not to mention, absolutely hilarious.
From tail-wagging Wookies and spaceships to doggy Darth Vaders and four-legged Yodas, the annual Pug Crawl featured all sorts of adorable pups prancing around the streets in some cute AF canine costumes that were simply out of this world.
Despite the rainy weather, the Pug Crawl brought out lots of spectators who captured every precious moment of the parade from the sidelines.
In fact, one woman was nice enough to give the world a glimpse of this glorious dog parade by live-tweeting the whole "Star Wars" pug procession.
Check out the pictures below for a closer look at this hilarious pug parade.
Over the weekend, Twitter user Laura Hall attended an epic dog parade...
I'm at a Star Wars-themed pug parade, I may not make it out alive pic.twitter.com/0KY6SO139A — Laura E. Hall (@lauraehall) May 22, 2016
Featuring pugs dressed up as all of your favorite "Star Wars" characters...
This is the best day of my life pic.twitter.com/ipsOKYIxUO — Laura E. Hall (@lauraehall) May 22, 2016
...and blessed the Internet with a blow by blow of what went down during the parade by live-tweeting the entire event.
Yes pic.twitter.com/nudrRVPQdp — Laura E. Hall (@lauraehall) May 22, 2016
Hall managed to capture a variety of dogs decked out in all sorts of hilarious canine costumes...
Salacious B. Crumbpug pic.twitter.com/zAjUDiFB1a — Laura E. Hall (@lauraehall) May 22, 2016
That ranged from four-legged "Star Wars" ships...
The ones dressed as ships are my favorites pic.twitter.com/zhGI70Dnw2 — Laura E. Hall (@lauraehall) May 22, 2016
...to adorable DIY Cloud City costumes and everything in between.
Bespin Cloud City is top contender for best DIY costume and also chilliest pug pic.twitter.com/Mp3CIkEnFO — Laura E. Hall (@lauraehall) May 22, 2016
Apparently, it was raining during the parade. But as you can see from Hall's tweets, no amount of precipitation could put a damper on the sheer enjoyment of seeing these "Star Wars" dogs.
It is raining a lot now but I will not let my spirits be dampened pic.twitter.com/Oe0AVU9Lj2 — Laura E. Hall (@lauraehall) May 22, 2016
I mean, seriously, just look at this pug dressed up as a Space Age lunchbox...
This one is a Star Wars lunchbox pic.twitter.com/4dRGikdomn — Laura E. Hall (@lauraehall) May 22, 2016
...and this prancing pug from "a galaxy far, far away."
#1 jaunty trot pic.twitter.com/k3MCZNNewW — Laura E. Hall (@lauraehall) May 23, 2016
The Force is definitely with this precious X-wing pup.
Last one! To that guy sitting on the curb behind the X-Wing pug: I know exactly how you feel pic.twitter.com/zn1Ef9lvG7 — Laura E. Hall (@lauraehall) May 23, 2016
While the parade may be over, Hall's tweets will make the memory of this adorable event live on forever.
The parade is over and all the pugs have waddled home. Thank you to the @OregonHumane Society for a truly great day https://t.co/vK3CehzXvy — Laura E. Hall (@lauraehall) May 23, 2016
It turns out, Hall wasn't the only one delighted by this dog-filled day.
Went to a Star Wars themed Pugcrawl today. Turns out, I didn't know what true happiness was prior to this afternoon: pic.twitter.com/gvlHxrIy4d — Mike Bennett (@MikeBennettArt) May 22, 2016
Yep, these cute AF canines gave a lot of people the feels...
A Star Wars themed pug parade, amazing!! https://t.co/a9N4DklE71 — Jayne (@MuvvaTucker) May 23, 2016
...and I think it's safe to say this pug parade will probably go down as the most glorious dog event in hound history.
Okay, but seriously. A STAR WARS THEMED PUG PARADE. (look at all of her pictures) https://t.co/mCkbU34A1v — Katie Moest (@katiemoest) May 23, 2016
Citations: A Star Wars pug parade happened and the highlights are spectacular Read more: http://metro.co.uk/2016/05/23/a-star-wars-pug-parade-happened-and-the-highlights-are-spectacular-5900197/#ixzz49V5af5TI (Metro UK)