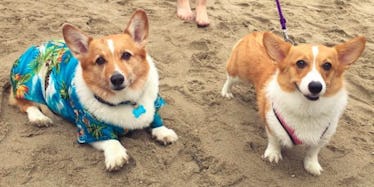 There Was An Epic Beach Party For 600 Corgis, And The Photos Are Adorable
Ugh ugh ugh ugh ugh ugh UGHHHHHHH!!! I don't know what you wasted your Saturday doing, but unless it was So Cal Corgi Beach Day, you done f*cked up.
The event hosted by So Cal Corgi Nation gathered over 600 beautiful, big-bootied corgis for a party in the sand on April 9 where the dogs took part in talent, costume and limbo competitions, vied for best momo (aka corgi butt) and even stopped by a kissing booth.
All proceeds from the event went to Queen's Best Stumpy Dog Rescue, which saves precious corgis in need.
Feast your eyes on the corgi mania you're kicking yourself for missing.
"SHARK IN DA WATER! Hehe."
"SMILE, Angela, DAMN!"
"Stop by da booth! I'm here all day!"
"BRB, I'm doing the 'Baywatch' thing!"
"Me gusta So Cal Corgi Beach Day!"
"Festival vibes! LOL, haha."
"TODAY'S THE BEST DAY OF MA LYFE!"
"Spaghett-a-bout-it! LOLOLOLOL!!! Just kidding, it's me."
Never. Missing. This. Party. Again.
Citations: Just 600 corgis at a beach party. NBD. (Mashable)