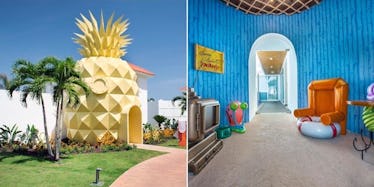 'SpongeBob' Lovers Can Now Vacation In A Pineapple, Just Not Under The Sea
When I was growing up, "SpongeBob SquarePants" was always my favorite cartoon, and not much has changed since then.
No really, I'm serious. To this day, I still reserve Sundays as a sacred day to binge-watch old "SpongeBob" episodes as I recover from a wumbo-sized hangover.
If you also happen to suffer from OSD (Obsessive SpongeBob Disorder) like myself, you can grab a cardboard box and use your imagination to experience what life would be like in a pineapple under the sea.
Or you can hop on David Hasselhoff's back, jet over to the beaches of Uvero Alto in the Dominican Republic and spend a few days in an epic villa inspired by your favorite yellow sponge.
I repeat, this is not a drill.
You can now stay in SpongeBob's pineapple house, and it looks insanely awesome.
Nickelodeon and Nick Resort Punta Cana are the masterminds behind this real-life rendition of SpongeBob's Bikini Bottom abode.
Inside this whimsical 1,500-square-foot space, you'll find a luxurious two-bedroom suite...
...decked out in underwater decor.
It comes complete with an inflatable armchair, a shell phone, a diving helmet TV set and a life-size replica of Gary!
But that's not all. This pineapple paradise offers some awesome amenities, including a garden where you can walk your pet snail...
A patio where you can practice your bubble-blowing techniques...
A butler who will bring you Krabby Patties on command...
...and a private infinity pool that totally puts Goo Lagoon to shame.
If you're looking to spend some time in this pineapple pad, you better be ready to plunge deep into your pockets...
...because you'll have to shell out about $3,800 per night to stay here.
Hey, if you ask me, staying in SpongeBob's insane house is totally worth putting in a few extra hours of overtime at the Krusty Krab.
Yep, I think it's safe to say I can officially die happy.
Citations: There's a SpongeBob Pineapple hotel and please take all our money (Metro UK)