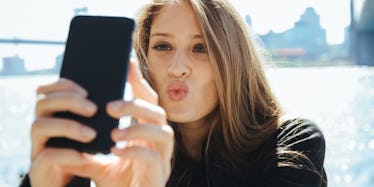 Here's How To Have Awesome Snapchat Stories, According To An Expert
We've all seen wanderlust Instagram accounts that inspire us to quit our jobs and start a blog capturing our experiences abroad.
But did you know Instagram isn't the only way to become a travel sensation on social media?
As one of the fastest growing social media platforms, Snapchat is quickly becoming the go-to place for avid travelers and followers who want to get a glimpse of the action.
So, long story short, you're going to need to step up your Snap-game if you want to dominate the virtual world while conquering cities across every continent.
If your Snapchatting skills aren't exactly up to par, don't worry.
We just got the inside scoop on how to master the art of Snapchatting your adventures abroad from Drew Goldberg, the Snapchat star behind "The Hungry Partier" travel blog.
Goldberg told Elite Daily,
Snapchat allows me to give my viewers a look behind the scenes as a full-time traveler, as I dive into cultures and showcase our planet. It almost feels like I am hosting my own Travel TV Show, as people tune in from all corners of the globe to view my travels daily.
I mean, really, who wouldn't want to be the star of their own damn travel reality show?
Goldberg's secret to Snapchat success is actually pretty straightforward. He told Elite Daily,
Whenever I see something cool, interesting or entertaining in my travels, I capture it and upload it to my Snap story.
However, there's a little bit more to achieving Snap stardom than just this.
Take a look at the pictures below to see some of Goldberg's Snapchat travel hacks and follow @drewbinsky to see more of his amazing adventures abroad.
Look for interesting content that captures your daily adventures and lets your personality shine.
Add 10-20 snaps to your Snap Story per day that consist of mostly videos and a few photos.
Get creative with your Snaps by adding text and emojis...
...or use the in-app marker to draw pictures.
Take advantage of Snapchat's amazing geo-filters that exist in practically every big city and during all sorts of big events like concerts, festival, etc.
Think about your Snap stories in a linear sense. People will be viewing each snap as a narrative, so make sure all of your snaps sequentially correlate with one another.
Be consistent and try to maintain the same style throughout your stories.
Get engaged with your followers and make them feel like they are part of your travels. Encourage them to send in their own travel photos, give out freebies like postcards...
...and it's fun to come up with games to get your audience involved. Goldberg often plays a game called "Where in the world are you?," where he asks people to send him geo-tagged Snaps of where they are and then adds them to his own story.
Most importantly, keep it real and just have fun with it.
According to Goldberg, "Just be yourself and don't try too hard to put on a show. If you are entertaining and doing cool sh*t, people will become attracted and start to spread the word to their friends."
Check out the video below to see some of Goldberg's Snapchat adventures: