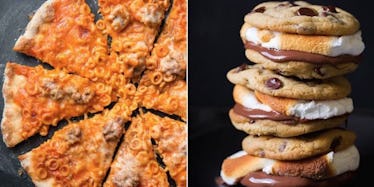 25 Insanely Mouthwatering Snacks You Need To Cure Your 4/20 Munchies (Photos)
Today is April 20, so you know what that means.
Everyone is going to be lighting up and stuffing their faces with the most insane foods their impaired minds can possibly dare to imagine once those darn munchies kick in.
But before you settle for a soggy slice of Ellio's topped with dino nuggets, or even worse, decide Doritos dipped in peanut butter would totally make an amazing snack, you should know there are many stoner-approved food concoctions that are perfectly fitting for 4/20.
In honor of National Weed Day, we set out to find all sorts of epic recipes that will take your snack game to a level that's even higher than you.
Trust me, you won't be disappointed.
Flaming Cheetos and Arugula Grilled Cheese
Apple Pie Nachos
Mini Pop-Tart Cereal
Buffalo Chicken Mac 'n' Cheese
Cheetos Crusted Waffles
Bacon Mac 'n' Cheese Quesadilla
Chocolate Chip Cookie S'mores
Chicken Parm Nuggets
Oreo Popcorn
Bacon Wrapped Pizza Rolls
Eggo Waffle Ice Cream Sandwich
Mini Mexican Pizzas
Fried Mozzarella Stick Grilled Cheese
PB&J Pop-Tart Sandwich
Lucky Charms Blizzard
Doritos Crusted Chicken Fingers
SpaghettiOs Pizza
Pepperoni Pizza French Fries
Prosciutto and Cheddar Hot Pockets
Nutella Stuffed Ice Cream Doughnut
Pretzel Pizza Rolls
Apple Pie Grilled Cheese
Cinnamon Churro Chex Mix
Peanut Butter and Oreo Stuffed Red Velvet Cupcakes
Ritz Cracker Ice Cream Sandwiches