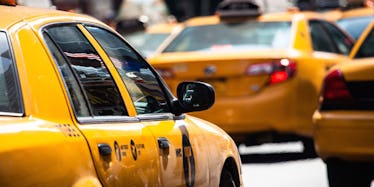 You Can Actually Sleep In This Airbnb Taxi To Get The Full NYC Experience
Shutterstock
If you're young, poor and ever wanted to visit New York City, then you likely butted up against the problem of finding a place to stay that doesn't cost an arm and a leg.
Luckily Airbnb has an affordable solution, and it's not a closet in someone's tiny basement apartment. One Airbnb host who goes by Jonathan is offering up the backseat of a yellow taxi minivan for just $39 a night. But this isn't just any taxicab backseat.
Listed as a "Unique NYC Taxi Sleeper Van," the ride is totally tricked out for sleeping purposes.
According to the description in the listing,
Taxi comes complete with a comfortable bed, soft pillows, sheets, and a portable wireless air-conditioner. The taxi must stay stationary. Super safe, and fun place to stay of a night to two!
With the minivan parked in Long Island City, Queens, you're just a ten-minute subway ride away from the hellscape that is Times Square!
And if you're looking for a place that oozes character and charm, this is definitely the perfect situation for you. The taxi was in service since 2002 and has driven thousands of people up and down New York's bustling streets. At the very least, this cab-motel's got moxie.
Citations: Spend the night in a real New York City taxi for just $39 (Fox News)