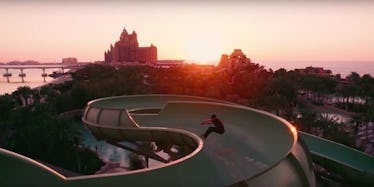 Skateboarders Ride Through Massive Empty Water Park And Crush Insane Tricks
If you thought speeding down a giant waterslide on your back was pretty damn exhilarating, just wait -- you haven't seen anything yet.
Alessandro Sorgente, Milton Martinez and Jan Hoffmann recently set out to take their water park endeavors to the next level by swapping out the floaties for some skateboards.
That's right. When Atlantis, The Palm Dubai's Aquaventure Waterpark, drained all the water from its rides to do some routine maintenance, these talented skateboarders decided to take advantage of the #WaterParkLockdown by using the park's dry slides as a badass beachfront skate park.
Seriously, if you're afraid of heights you might want to look away.
After all the water was drained from the park, these brave skaters climbed to the top of Atlantis with their boards.
Then, they took the plunge and shredded through all sorts of massive empty slides, including the largest waterslides in the world, the Zoomerango and the Aquaconda. Luckily, Ed Munoz was on hand to capture the trio as they glided along the walls of the waterslides and busted out a variety of massive jumps and mind-blowing tricks.
There's no denying skating through a giant water park looks insanely fun, and at times, it's almost hard to believe how easy these three make it look.
Check out the video for a closer look at this mind-blowing skate session in Dubai.
Citations: SKATING AN EMPTY WATERPARK IN DUBAI (Lyfestyl Music)