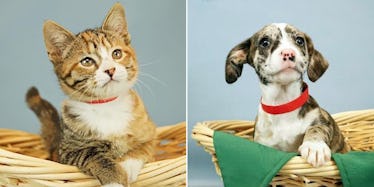 Animal Shelter Delivers Cute Animals To Your Office For Some Stress Relief
Everyone knows work can be super stressful.
Wouldn't your 9 to 5  just seem so much better if you had a furry little friend to help you destress when things at the office get a bit ruff?
Well, thanks to people at the Humane Society Of Broward County, you can have an insanely adorable animal delivered right to your desk to help you get through the office grind.
That's right, there is now an animal shelter in Florida that will fill your office cubicles with cute and cuddly animals.
This clever new service, fittingly named Snuggle Delivery, brings shelter dogs and cats to your workplace for an hour-long visit to combat those office woes with a little bit of tail wagging, kitty-cat cuddling and slobbery canine kisses.
Each visit requires a minimum donation of $150 to the shelter, but let's face it, that's a small price to pay for the feeling of sheer joy you will get from having your office overloaded with cute cats and playful puppies.
It's pretty much a win-win situation for all parties involved. The donation benefits all those little fellows at the shelter while also giving them a chance to get out and meet potential adopters.
Plus, all of the furry visitors are fully prepared for adoption, so if you just can't part with the little guy after an hour, you can just sign a few papers and adopt him on the spot!
If only all of your business meetings could be so simple and adorable.
Snuggle Delivery helps you battle a stressful day at the office...
By delivering a bunch of insanely cute kittens...
And precious puppies...
...right to desks and office cubicles.
For a mere $150 minimum donation...
...you can fill your office with a bunch of ridiculously cute and cuddly animals.
They'll make you forget about all those stupid meetings and monthly reports.
Destress with a snuggling session and some puppy playtime.
Plus, all the animals are spayed or neutered and ready for adoption. So, if you just you just can't part ways at the end of your visit...
...all you have to do is sign a few papers and you now have a brand new friend to bring home at the end of the day.
Citations: This Animal Shelter Offers Pet Delivery To Offices To Reduce Stress And Help Animals Find Homes (Bored Panda )