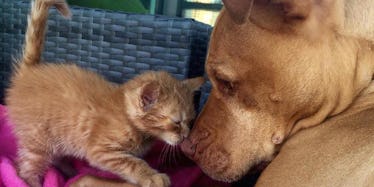 This Pit Bull And His Kitten Sister Are The Most Adorable BFFs Ever
There's no shortage of incredibly adorable animals on the Internet.
But when it comes to seriously melting hearts, no one does it better than Bubba.
Bubba is a Pit Bull who was rescued as a pup from a shelter in Arizona by his owner, Rebecca Pizzello.
At the time, Pizzello's roommate was taking care of a litter of kittens, so Bubba befriended the little fellas. He's had a serious love for cats ever since.
Finally after six years, Pizzello decided to get Bubba his very own kitty companion named Rue, and now the dog and cat are basically the cutest BFFs on the face of the planet.
Pizzello told BoredPanda,
I always knew he'd love having one of his own but I wanted to wait until we moved to NYC this year. The fact that Bubba and Rue have identical coloring still blows my mind… I knew Bubba would be filled with joy the second we walked in the door and boy was I right.
Check out the pictures below to see Bubba and his little feline friend.
Say hello to Bubba.
Bubba isn't your average 6-year-old rescue Pit Bull.
Shortly after Rebecca Pizzello brought Bubba home from an animal shelter in Arizona...
...Bubba befriended a litter of kittens Pizzello's roommate was caring for at the time.
Since then, Bubba's basically been obsessed with cats.
After six long catless years, Pizzello decided to get Bubba his very own kitty companion.
She rescued a little ginger kitten named Rue...
...and now Bubba and Rue are pretty much inseparable.
It's not hard to see these two make one seriously delightful duo.
Pizzello told BoredPanda, "I think Rue thinks Bubba is her mom and Bubba loves it."
When these two aren't snuggling with one another...
Or catching a couple catnaps...
You can find Bubba bathing his furry friend...
...or hanging around with Rue looking all adorable and what not.
Yep, these two certainly make the purr-fect pair.
Citations: Rescue Pit Bull Gets His Own Kitty, Loves Her Like A Daughter (BoredPanda)